Here's what Autonomy told its salesmen they were allowed to do
'No side agreements'
Autonomy Trial With the Autonomy Trial in full swing over HPE's allegations that the British software company fiddled its accounts to inflate its buy price, what exactly were the corporation's internal rules on recognising revenue? An internal presentation from its general counsel, obtained by The Register, sheds some light.
Joel Scott, Autonomy's general counsel, made a slide deck titled "Revenue Recognition and Legal". It was delivered to Autonomy's salespeople to explain the company's rules on revenue recognition – and, therefore, on when sales made could be counted towards their bonuses.
As HPE argues that Autonomy was fiddling its books in a variety of ways to make it seem as if the company's turnover was higher than it truly was, it is useful to take a look at the internal advice given to Autonomy salesmen.
While not conclusive, the parts of the slide deck shown below tend to show what the internal culture was supposed to have been.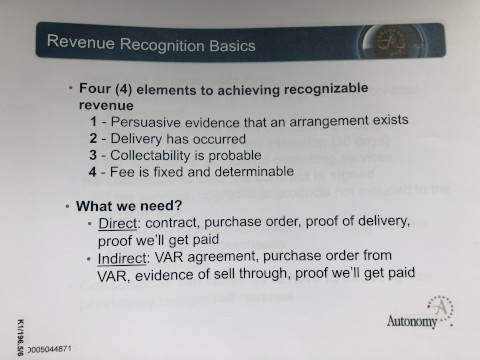 Former US head of sales Christopher "Stouffer" Egan testified to the High Court that evidence of sell-through wasn't actually necessary, but otherwise this page was accurate.
Egan said: "I understood why this [evidence of sell-through] would be in Mr Scott's presentation. It was not something you would want the entire sales force to understand and use as a back-up plan if they couldn't get deals closed at end quarter. So there was a difference between what was allowed and what was policy."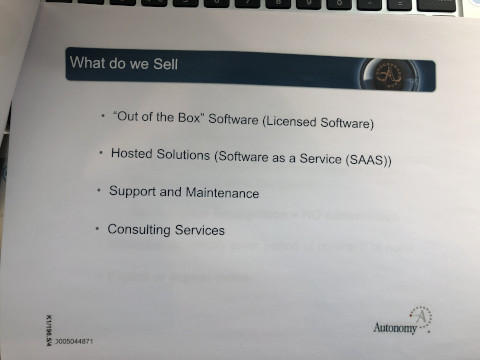 HPE would argue a certain word is lacking here. It begins with H and ends with E and is 8 letters long
The High Court has already heard arguments that Autonomy disguised its sales of hardware by accounting for them under the "marketing" heading, rationalising this by saying the hardware was thrown in as deal-sweeteners for the software it actually sold.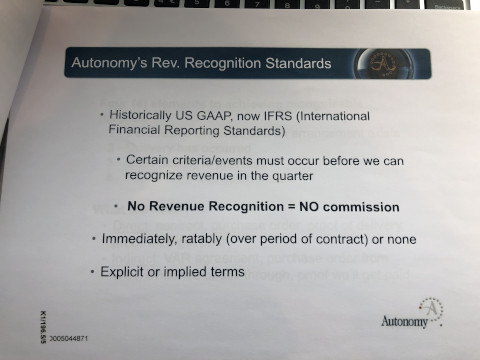 'No revenue recognition = NO commission'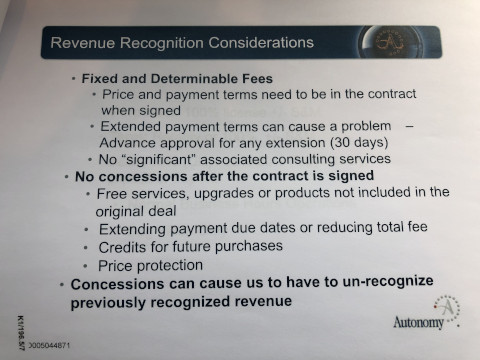 'Concessions can cause us to have to un-recognize previously recognized revenue'
Autonomy was very focused on ensuring as much revenue as possible was recognised within each quarter. Mike Lynch, its former CEO, and Sushovan Hussain, its former CFO, would both argue that there was nothing unusual or unethical about that focus.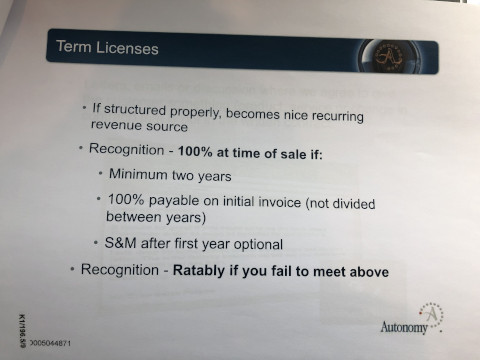 Licence revenue was recognised 100 per cent upfront if it was longer than two years and noted as 100 per cent payable on the first invoice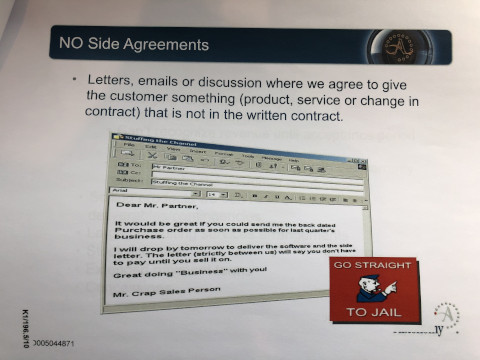 No side agreements
Stouffer Egan, looking at this exact slide above, testified to the High Court that he "violated this with permission and tolerance and guidance at times", before agreeing that in general, there was a "zero tolerance policy" towards breaking the "no side agreements" rule.
No extended payment terms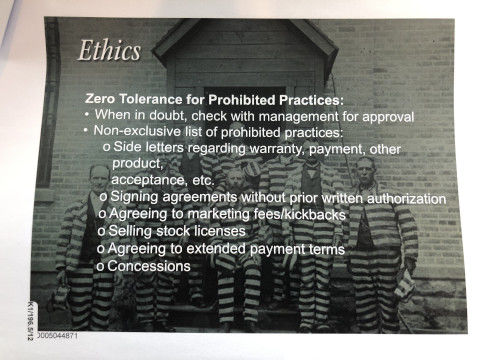 Ethics for Autonomy salesmen
Next week the High Court will be hearing from Philip Greenwood (Head of Connectors, Autonomy) on Tuesday and Chris Goodfellow (CTO of Infrastructure, Autonomy). The Register will be publishing a roundup of their evidence in due course. ®