The East Japan Railway Company (JR East) began testing a 10-carriage 400kph (249mph) bullet train on Friday night.
Test trains will run twice a week and the process is expected to last three years.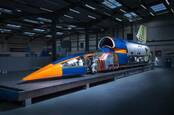 Bloodhound Super-Sonic Car aims to wake up Newquay: Rocket work restart in August
READ MORE
Once in service from 2030, the Alfa-X will run at a mere 360kph or 224mph when passengers are on board. This would make it one of the fastest trains in the world.
That record, however, might be beaten before then: Japan is also working on a Maglev train which has hit 603kph in testing. It aims to link Tokyo and Nagoya by 2027.
The train's first carriage is almost entirely a 22m tapering nose, topped by three small windows for the driver to see out, according to Bloomberg.
The company is not just focused on speed – its Joyful Trains division includes Pokémon-branded vehicles to put the, er, fun back into rail travel.
In Blighty, HS2 is due to carry its first passengers in late 2026 and is hoping for a top speed of 360kph. ®
Similar topics