Assange rape claims: Complainant welcomes Swedish investigation's reopening
Plus: Investigators granted access to Jules' room in Ecuadorian embassy
---
A woman accusing Julian Assange of sexual assault has welcomed the decision to reopen an investigation into the WikiLeaks founder.
But her lawyer, Elisabeth Fritz, warned that the Swedish prosecutor must move quickly to avoid hitting the deadline of August next year, when it will be 10 years since the offence allegedly took place.
"We cannot afford to lose any more time," Fritz said in a statement sent to The Register.
Assange is right now in Belmarsh prison, serving a 22-week sentence for jumping bail.
Separately, US authorities have charged him with conspiracy to commit computer intrusion and have sought to extradite him to America.
The WikiLeaks founder was this month bundled out of the Ecuadorean embassy where he had been holed up since 2012 – when he sought refuge, breaking his bail conditions, from an earlier European Arrest Warrant from Sweden. The Scandinavian country's prosecutors dropped that warrant in May 2017.
As the years ticked by, Assange's camp maintained that should he leave the embassy and be arrested, he would be promptly handed over to waiting American CIA agents in black helicopters for publishing, among other stuff, secret US diplomatic cables that had been given to WikiLeaks by US Army intelligence analyst Chelsea Manning.
But Ecuador withdrew Assange's diplomatic asylum on 11 April after some tension between the Australian and his landlords, and Assange was promptly hustled into a Met Police van. He was later sentenced to 50 weeks for jumping bail.
He declined an extradition request from the US on 2 May. The extradition case has been adjourned until 30 May.
Earlier today, Sweden's deputy director of public prosecutions, Eva-Marie Persson, said she was reopening the rape investigation into Assange. She is seeking a fresh European Arrest Warrant in order to request extradition from the UK.
She offered Assange the chance to consent to be interviewed in Blighty.
The Swedish complainant's lawyer said her client was grateful Scandinavian prosecutors had decided to reopen their investigation and still hopes to get restitution. "We both hope that justice will win."
It has also emerged that Ecuadorian officials have agreed to allow US investigators – probing the conspiracy to commit computer intrusion charge – to examine the contents of Assange's former abode inside its London embassy.
The rooms will be searched on 20 May, overseen by police chief Diego López and second sergeant Milton Jaque, a computer forensic expert, reported El País, here in English. The Ecuadorians have apparently agreed to hand over any documents, cell phones, computers memory drives, CDs and other devices.
Baltasar Garzón, a former crusading judge from Spain who is now Assange's lawyer, told the paper the move was "an absolute violation of the institution of asylum by Ecuador".
"It is incomprehensible that the country that afforded him protection is now taking advantage of its privileged position to turn over his belongings to the country that is persecuting him. These belongings will be seized without a court warrant, without protecting the rights of political refugees, without respecting the chain of custody."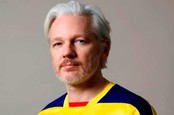 Get in line, USA: Sweden reopens Assange rape case
READ MORE
He said the move compounded the release of recordings of Assange made at the embassy, noting that a complaint has already been filed over that incident.
WikiLeaks issued a statement asserting that Assange had always been willing to answer Swedish prosecutors questions and was interviewed in the embassy in November 2016.
It insisted that Assange sought asylum only to avoid extradition to the United States and would have been prepared to go to Sweden if he were assured that he would not be sent on to the US.
The statement further noted the original investigation was dropped and that Assange continues to maintain his innocence. ®