This article is more than 1 year old
Unexpected OutSage: Sage Business Cloud enjoys a Tuesday totter
Cloudy accounting service takes an extended morning tea break
Updated Accounting software giant Sage has been having a few irritating interruptions this morning as users encountered difficulty counting beans with the company's services.
The first reports of issues began trickling just before 09:30 UK time as users found themselves unable to log in to the company's cloud stuff. According to Sage's status page (when accessible) the issue was isolated to Sage Business Cloud Accounting for customers in the UK and Ireland.
Naturally, customers took to Twitter to express their unbridled delight at the failure.
Anyone know what's going on with sage cloud accounting @sageuk ? Virtually impossible to log in, blank screens, 502 bad gateways, ... and I'm paying for the privilege 🙄

— Marvin (@alipestweets) May 14, 2019
Sage's home page could charitably be described as a bit wobbly as it staggered upright before falling over again like a drunk uncle at a wedding.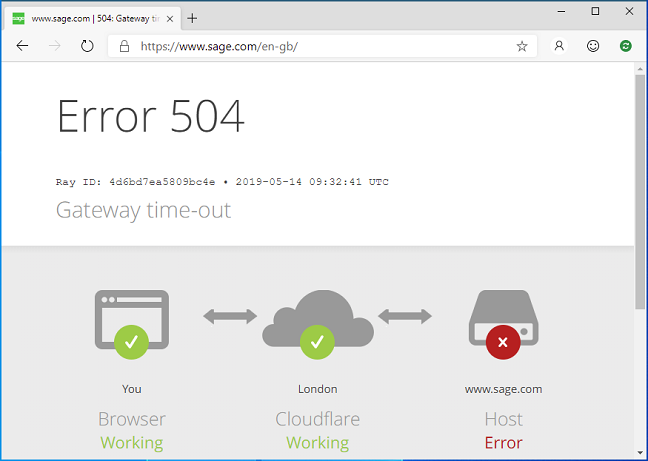 Sage is unwell
The company's social media orifice described the problem as "intermittent", which is scant comfort for users depending on the outfit for services such as company accounting, payroll and, you know, actually running a business.
Hi, we're currently investigating intermittent issues with the Sage Business Cloud service. We're working to fix this as soon as possible. Paul, Sage UKI

— Sage UK&IE Support (@askSageUKI) May 14, 2019
For its part, Sage insisted in an emission just prior to the outage that the key to a successful business is through better customer experience. Its own customers would agree, and may gently suggest the company might care to practise what it preaches.
Do you think the key to a successful business is through better customer experience? #Retail expert @soult explores what YOU think!

Click here to find out more 👉 https://t.co/FOeYO8vleZ pic.twitter.com/LwtcJvM1G8

— Sage UK (@sageuk) May 13, 2019
The accounting biz reported a jump of 7.6 per cent in organic revenue to £465m for Q1 of fiscal 2019 (ended 31 December 2018), which Sage said "reflects growth in products within, or to be migrated to, Sage Business Cloud."
The Register contacted Sage to find out the cause of the tottering, and will update with any response. ®
Updated at 11:18 BST to add:
A Sage spokesperson has been in touch to tell us: "It has been resolved." More detail will follow.
Updated at 12:45 BST to add
A Sage spokesperson told us: "For a short amount of time this morning, some customers attempting to access features and functionality on Sage.com experienced intermittent connectivity issues. Our team has now resolved the underlying problem and will continue to monitor closely. We're sorry for this dip in service and any inconvenience this caused to our customers."