This article is more than 1 year old
California court sentences ex-Autonomy CFO Sushovan Hussain to five years in clink for fraud
One-month stay of execution won't sweeten $10m in fines
Former Autonomy chief financial officer Sushovan Hussain has been sentenced to five years in a US prison for fraud over the 2011 sale of the British software company to Hewlett Packard.
US District Judge Charles Breyer imposed a 60-month sentence along with a $10m fine, comprising a $4m penalty and forfeiture of $6.1m of assets, as well as a $1,600 "special assessment".
A federal jury in San Francisco had previously found Hussain, a British citizen, guilty of one count of conspiracy, 14 counts of wire fraud and one count of securities fraud. Once released from prison, Hussain will face a further three years under supervision.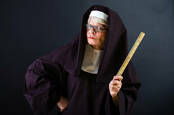 Here's what Autonomy told its salesmen they were allowed to do
READ MORE
However, the former CFO will not begin his prison term for a month, having been ordered to report to the US Bureau of Prisons on 15 June.
In a statement, Hussain said: "My family have suffered so much but been unwavering in support. I'm deeply sorry for the pain and suffering I have caused them. I hope I can be worthy of their compassion."
A jubilant statement from the US Attorney's Office for the Northern District of California denounced Hussain for having used "sophisticated accounting methods to falsely inflate Autonomy's revenues to make it appear Autonomy was growing when it really was not".
"Specifically," it continued, "Hussain used backdated contracts, roundtrips, channel stuffing, and other forms of accounting fraud to fraudulently inflate Autonomy's publicly-reported revenues by as much as 14.6 per cent in 2009, 17.9 per cent in 2010, 21.5 per cent in the first quarter of 2011, and 12.4 per cent in the second quarter of 2011."
In total, it said Hussain was ultimately responsible for Autonomy's revenues having been overinflated by $193m between 2009 and the first half of fiscal 2011.
Hussain had tried to defend himself against the US criminal process by arguing that whatever he had done had been done in the UK and not in America, and thus charging him with wire fraud in America was an "impermissible extraterritorial application of federal criminal law". District Judge Breyer threw this out because Hussain's actions had been transmitted to HP over domestic US wires. His second-line defence, that he had followed UK accounting rules for a UK company, was rejected by the American jury.
Prosecutors had asked for a 12-year sentence, while Hussain's lawyers had argued for their client to spend no more than 366 days working on his stripey suntan.
Hussain's role as financial kingpin of Autonomy during the ill-fated $11bn HP buyout of the company, and its subsequent $8.8bn writedown, is subject to a civil trial in London's High Court. His co-defendant, one-time Autonomy CEO Mike Lynch, has also been charged with crimes in the US, as has Autonomy finance veep Stephen Chamberlain. ®