This article is more than 1 year old
Vodafone hacks dividend as it reports €7.6bn losses for FY19
Shareholders left counting cost of 40% annual payout squeeze. CEO says balance sheet needed some love after 5G spectrum auction overheads
Vodafone investors are crying rivers this morning after the telco slashed a FY19 dividend payout to beef up its balance sheet. The disposal of operations in India contributed to steep losses.
The cost-cutting organ reported a 6.2 per cent drop in group revenue to €43.7bn for the year ended March, with falls recorded in both mobile and fixed service turnover. Increased competition from lower cost rivals, particularly in Spain and Italy, and "headwinds" in South Africa also took a toll, Vodafone admitted.
Vodafone: Daft Huawei comms gear ban will cripple UK – and cost punters loads
READ MORE
"These challenges weighed on our service revenue growth during the year, and together with high spectrum auction costs have reduced our financial headroom," said Nick Read, group CEO.
Vodafone has been watching the pennies especially closely since it dug to deep to fund the €18.4bn buy of Liberty Global's German and east European cable biz: Voda has since sold off parts of the business deemed non-core, including India and New Zealand, entered into a major revamp of the organisation and outsourced cloud service delivery.
Read said the group was at a "key point of transformation" - including simplifying the org chart and getting better RoI on infrastructure assets. "To support these goals and to rebuild headroom, the board has made the decision to rebase the dividend, helping us to reduce debt and delver to the low-end of our target range in the next few years."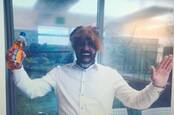 Vodafone exec dons tartan tam-o'-shanter, clutches bottle of Irn-Bru, in snap shared with firm... just before Glasgow staff told of redundo dates
READ MORE
The annual dividend to shareholders was slashed by 40 per cent to 9 euro cents - contradicting Read's previous commitment in November to maintain the payout, which would have cost €4.1bn. This is the first time Vodafone has cut such payouts to investors.
The company reported a loss of €7.6bn for the year, partly due to operations in India, that have now been offloaded to Idea Cellular, and restructuring costs.
Vodafone exited the year with net debt of €27bn, compared to €29.6bn a year earlier. ®