'Unstoppable' Chinese NAND fabber YMTC to unleash 64-layer flash flood before skipping ahead to 128 – analyst
You thought the memory glut was almost over? Think again
Analysis Chinese NAND flinger Yangtze Memory Technologies (YMTC) will be mass-producing 64-layer 3D NAND flash chips by the end of the year and price competition could get ugly in 2020.
That's the opinion of research outfit TrendForce's DRAMeXchange division. It said YMTC had already sent samples of its 64-layer Xtacking chips to potential customers and controller suppliers, with a focus on the domestic Chinese market. YMTC is limiting 32-layer chip production at its new Wuhan plant, ready to switch on 64-layer processes.
It is said to plan output of 60,000 wafers a month in 2020, enough to delay recovery from the current oversupply of NAND, which has caused prices to drop. The analyst said this is expected to certainly have an "impact on NAND flash market prices and prolong the falling trend".
YMTC's 64-layer product will compete with more advanced NAND from its competitors. Suppliers such as Intel/Micron, Samsung, SK Hynix, Toshiba and Western Digital are controlling production volumes while bringing 92 to 96-layer processes on stream, which will lower per-bit costs.
Beyond that, TrendForce said it sees YTMC moving to 128-layer NAND in 2020 to lower costs again and increase bit shipments, as its chart shows: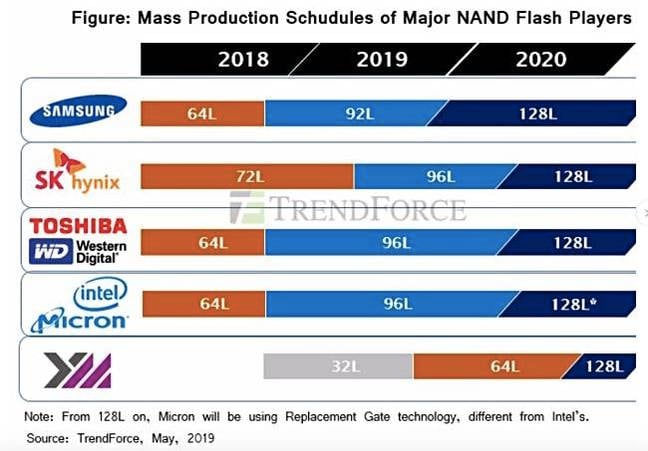 The analyst envisioned YMTC jumping straight from 64 to 128-layer NAND in the second half of 2020, bypassing the 96-layer process, at which point all the NAND suppliers will be on equal footing.
TrendForce declared: "YMTC's impact on the future market is inevitable and unstoppable." ®