Earlier this week, Huawei teased the launch of a new database product, featuring machine learning and compatible with Arm-based processors.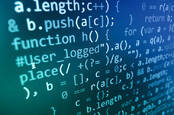 AI! Databases here we come, yells Huawei as it preps software you can fling your Arm around
READ MORE
This morning, more details were announced during an event in Beijing: the system is called GaussDB and is available immediately on-premises or from Huawei Cloud.
According to the company, the addition of the machine learning component enables the database to conduct "self-O&M [operation and maintenance], self-tuning, self-diagnosis, and self-healing". If only it could also make a strong cup of tea.
Now, here's where things got a little bit confusing: we found mentions of Huawei's GaussDB that go back as far as 2016.
This Huawei presentation (PPTX) from 2016 hosted by the University of Washington's database group describes GaussDB as an amalgam of multiple database systems covering all industries. According to the document, the framework includes Gauss100 OLTP for transactional application scenarios and Gauss200 OLAP for analysis of structured data.
A raft of security advisories from 2017 published on Huawei's website also mentions GaussDB as a component of Huawei's FusionStack, the company's OpenStack distribution.
The final giveaway came from Huawei itself, in today's PR celebrating the "launch" of GaussDB, it said: "So far, Huawei's GaussDB and FusionInsight big data solutions have been deployed in 60 countries and regions, serving over 1,500 customers. These two solutions have been adopted by over 500 business partners, and are widely used in industries such as finance, telecoms, government, energy, healthcare, manufacturing, and transportation."
El Reg contacted Huawei and was told that this is actually the third version of the database, but the first to integrate machine learning. Huawei started working on GaussDB way back in 2011. Although open-source software was used in the creation of the product, the database itself is very much proprietary.
The firm also told us that GaussDB can be bought as a standalone software package alongside Huawei's Fusion storage, or as a managed service from Huawei Cloud. No third-party public cloud vendors are supported, at least for the moment. ®