This article is more than 1 year old
C'mon, UK networks! Poor sods have 'paid' for their contract phones a few times over... Tell 'em about good deals
You have a year – Ofcom
Bad luck, ISPs and networks – Brit comms regulator Ofcom has made good on its threat to make firms inform punters about better broadband, mobile, pay TV and home phone deals before their contracts expire.
The new regs were originally supposed to take effect within six months but after some pushback from providers, the watchdog (PDF) said they'd come into force on 15 February next year.
Under the new rules, telcos and pay TV firms must warn customers between 10 and 40 days before their contract comes to an end.
Comms-pushers will be tasked with:
Sending end-of-contract notifications with "best" tariff advice to residential and business customers (crucially, this must include "at least one SIM-only deal for people who bundle the cost of a mobile handset with their airtime")
Making sure all customers who remain out-of-contract also receive annual best tariff information
The move was made in the wake of a review (PDF) in mid-December last year that also looked at broadband pricing across the country.
The regulator said last July that more than 20 million consumers were "outside their minimum contract period", and over 10 million on deals that had an automatic price increase at the end.
Some providers were obviously unhappy about the proposal to suggest SIM-only tariffs to customers who were being fed their (presumably pricey) bundles. Ofcom has said that one of the deals presented to a customer with a bundled mobile handset and airtime contract should be the "cheapest available SIM-only tariff based on the services the customer currently receives".
One respondent whose name was redacted from the document – we can only imagine it was a mobile provider – said bundle customers should not be told about these deals, because they "may be happy with their existing bundled handset and airtime deal and may not want SIM-only offers". We bet.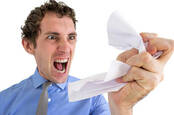 UK.gov looks to data to free people from contract lock-in doom
READ MORE
Ofcom ran research in 2018 on people reaching the end of their contracts, and around 25 per cent of respondents said they were unaware of SIM-only tariffs. One of the communications giants out there wants to keep it that way.
The watchdog also somewhat confusingly decided a provider's "best" tariffs can include an upgrade tariff alongside the cheapest deals and that it wouldn't necessarily have to be the cheapest upgrade available if the comms provider could justify that a costlier upgrade provided better value.
Ofcom said it plans to keep track of the whole shebang, which sounds like it would entail a whack of administration, by requiring the firms to keep track of what deal alerts they sent to whom, and to hang onto that for at least 12 months. Vodafone argued this was disproportionate, advising that six months was more realistic, to which the regulator responded drily that providers "are already able to store personalised information on their customers". Quite.
Gillian Guy, chief exec of Citizens Advice, said: "We are encouraged that Ofcom will make companies send a reminder to their customers when their contract is about to end. But, given the scale of the loyalty penalty, this won't be enough to solve the problem. Almost nine in 10 people think that charging loyal customers more is unfair, and we agree.
"The [Competition and Markets Authority] was clear in its response to our super-complaint that regulators must report on their progress by June. We look forward to hearing about the concrete actions Ofcom will take to end this systematic scam."
It's understood the notifications will take the form of an email or an SMS alert – examples of which can be seen on pages 130 and 131 of Ofcom's statement (PDF). They will need to be "separate and distinct from any other communication". What do you think, readers: is the nation going to hit delete or toss it out with the takeout menus like so much spam? ®