This article is more than 1 year old
If you're ever lost on the Moon, Ordnance Survey now has you covered for Apollo 11 anniversary
Hot tip for Reg readers: There are Easter eggs to be found
The UK's Ordnance Survey has followed up the Mars map with a little something to celebrate the 50th anniversary of the Apollo 11 landing in its own, distinctive cartographic style.
Paul Naylor, programme chair and council member of the British Cartographic Society, spent three weeks painstakingly piecing together data to create the map, which covers 1,350km by 1,000km of the lunar surface at a scale of 1:1,470,000.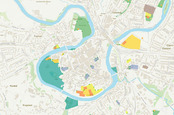 The Reg chats to Ordnance Survey's chief data wrangler
READ MORE
Wannabe lunar orienteers will be delighted to note the traditional design aesthetic and the classic Ordnance Survey approach to the map, even if their compasses might not be quite as reliable as the output of the venerable British institution. We'd suggest the imagery would be more suited to the wall than a ramble on the regolith.
Naylor took the publicly available United States Geological Survey (USGS) 60m-per-pixel Digital Elevatation Model (DEM) of the Moon (courtesy of NASA's LOLA Team and JAXA's SELENE/Kaguya Team). He then imported it into QGIS (an open-source geographic information system).
The next step was to locate the Apollo 11 landing site and clip the surroundings for that pleasingly rectangular 1,350km by 1,000km and apply some hill shading to bring out the detail in the terrain.
A colour ramp was then created based on a palette inspired by the 2018 Insight Investment Astronomy Photographer of the Year (Our Moon category)-winning image taken by Jordi Delpeix Borrell. The resulting palette was applied to the original DEM and, with some transparency added, overlaid on top of Naylor's hill shade.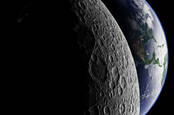 Guess what shrinks when it gets cold and then you shake it around a little? The Moon. We're talking about the Moon
READ MORE
Labels for craters, mountain ranges, ridges and so on were then added, along with the actual landing site before a grid was placed for distance, latitude and longitude. The thing was finally exported for some fettling in a graphics package.
The result, said Naylor, "was an absolute joy to make" and, as you would imagine, can be picked up from the Ordnance Survey shop to delight the lunatic in your life.
An Ordnance Survey spokesperson also exclusively told The Register that Naylor had hidden some Easter eggs in the map for the eagle-eyed to find (see what we did there?).
We can but hope that NASA can find the required £15.99 in its $1.6bn additional budget request to equip its brave astronauts with a paper backup in the event their electro wizardry lets them down. ®