This article is more than 1 year old
Banhammer Republic: Trump declares national emergency, starts ball rolling to boot Huawei out of ALL US networks
Fail Huawei, fail Huawei, fail Huawei: Executive order targets IT, telecom systems
President Donald J. Trump today declared yet another national emergency in the US – this one over the threat of unidentified foreign adversaries exploiting vulnerabilities in IT and telecom systems and services.
Short on specifics, the freshly signed executive order authorizes the Secretary of Commerce "to prohibit transactions posing an unacceptable risk to the national security of the United States or the security and safety of United States persons," the White House said in a statement.
The order has been widely interpreted as the laying of groundwork to prohibit the use of Chinese telecom gear by American companies, particularly kit made by Huawei, already shunned by US government agencies, and ZTE. But as worded, the order could be used to justify blocking any tech infrastructure transaction involving a "foreign adversary," however that term is defined.
Over the coming months, the US Commerce Department, in consultation with other relevant agencies such as the Justice and Treasury Departments, is expected to formulate rules for reviewing IT deals subject to the presidential order. In other words, the executive order tells other parts of the government to put the wheels in motion.
Earlier today, the Department of Commerce placed Huawei and 70 or so affiliates on its entity list, which will effectively block the Chinese giant from buying components from American companies and doing business with the firms without Uncle Sam's approval. That is likely to hinder Huawei's ability to build at least some of its products unless its US suppliers secure the necessary export licenses from the US government. The manufacturer is, it is claimed, stockpiling US kit in the meantime.
To give you an idea of where this is all going, Commerce Secretary Wilbur Ross said the decision to place Huawei on the list was made to "prevent American technology from being used by foreign owned entities in ways that potentially undermine US national security or foreign policy interests."
And FBI boss Christopher Wray warned earlier this year that China is the biggest cyber-security threat to America.
Background
Today's executive order and export crackdown come amid a global transition to 5G networking technology that the Trump administration would prefer to see play out with a minimal amount of Chinese equipment. The concern is that Chinese kit could be backdoored by Beijing to spill secrets, particularly intelligence secrets, something the US has been accused of doing by tampering with American networking kit in transit.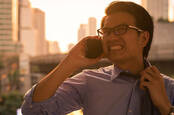 Huawei, Huawei. Huawei, Huawei. Feeling hot, hot, hot: US threatens to cut UK from intel sharing over Chinese tech giant
READ MORE
In recent months, US officials have been pressuring allies to avoid Huawei telecom gear over concerns about the company's ties to the Chinese government. In January, US prosecutors filed charges against Huawei alleging theft of trade secrets from T-Mobile and charged the company and its CFO with violating sanctions against Iran. In February, US Secretary of State Mike Pompeo said the US will withhold intelligence data from countries using Huawei telecom gear.
European officials have indicated they don't intend to comply. But in Australia at least, there's support for avoiding Chinese telecom equipment.
Huawei has pushed back in American courts, filing a lawsuit in March challenging the US government ban on using its equipment for federal agency networks. And more recently it has defended itself via Twitter, by insisting that it doesn't do the bidding of Chinese authorities.
"Concerns about Chinese laws requiring Huawei to cooperate with intelligence agencies are overblown," the company said, noting that Huawei chairman Liang Hua says the company will commit to a "no-spy agreement" with the UK government, which is still deciding whether or not it should ban Huawei products. ®