Uber drivers, who have been vocal about low wages and lack of benefits, may soon be less so, at least for those booking its more expensive Uber Black and Uber Black SUV rides.
The newly public company, stock buoyed by a US National Labor Relations Board decision that its drivers are contractors rather than employees, has just announced the arrival of Quiet Mode, a passenger app setting to direct drivers not to speak.
"If you need to respond to emails or are in the mood for a nap, make your trip a quieter one with just one tap," the taxi biz explains in a blog post this week. "If you're in the mood to chat, that's an option too."
Earlier this month, Uber drivers were chattier than usual, protesting wages in a strike that reached around the globe but didn't draw enough support to really inconvenience the company.
In a forum for Uber drivers, the driver silence setting has also been referred to as "Uber quit mode" and as "Driver STFU." Among those griping about the gag option, one forum participant expressed hope for parallel enhancements to the driver app like a passenger eject button.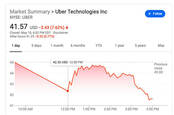 What's that? Uber isn't actually worth $82bn? Reverse-gear IPO shows the gig (economy) is up
READ MORE
The shut-up-and-drive checkbox for Uber's pricier transport arrives in the US alongside other Ride Preference options, including Help with Luggage and Temperature Control. The plebs booking budget UberX or Pool rides are left to deal with droning drivers, bulky bags and sauna sedans on their own, without the impersonal mediation of an app menu.
Alongside the debut of its throat-throttling interface, Uber has decided to be a bit more forthcoming with data about the movements of its contractors and their cars. The company, notoriously possessive about its data, has decided to share vehicle speed metrics in five cities – New York City, Seattle, Cincinnati, Nairobi and London – in the hope city agencies can use the info to help optimize traffic management and transportation infrastructure.
Better driver vetting remains an unrealized goal – CNN on Tuesday reported that a man driving for both Uber and Lyft has been accused of war crimes. But at least now passengers won't have to be tortured by talk. ®