This article is more than 1 year old
Prez Trump's trade war reshapes electronics supply chains as China production slows
Not great for US importers who have to pick up the bill, good news for Taiwan and Vietnam
The ongoing trade war between two of the world's largest economies is starting to seemingly affect electronics production – with US output growing slightly faster than it did a year ago, and production in China slowing down.
According to Semiconductor Intelligence (SC-IQ), the first quarter of 2019 saw electronics production in the US growing an average of 6.2 per cent, when compared to the same quarter a year ago. The nation has seen 12 consecutive months of manufacturing growth at 5 per cent or higher.
At the same time, the Chinese electronics industry grew 8.3 per cent in February, and 8.2 per cent in March – the first period since November 2016 to deliver an increase of less than 10 per cent.
The trade war kicked off in June 2018, with the Trump administration slapping an import tariff on $50bn worth of Chinese goods, including "information and communication technology."
Next, in September 2018, the White House announced a 10 per cent tariff on $200bn worth of Chinese wares – from meat to monopods. Earlier this month, the tariffs on affected products were increased to 25 per cent.
These charges are pretty much paid for by American companies and buyers importing Chinese goods and parts into the United States. The White House hopes to force Chinese suppliers to cut their prices to offset the levies, eating further into their razor-thin margins, or encourage American buyers to avoid importing kit from the Middle Kingdom. We note that price tags on stuff built from imported Chinese components have gone up by varying degrees, hitting businesses and consumers. The aforementioned small adjustment in US and China output rates may be the result of these changes in tariffs.
Beijing, meanwhile, retaliated, with fresh levies on $60bn of American imports – but due to its humongous trade surplus with the US, the country's options are limited.
The trade war has had a beneficial effect on some of China's neighbors, as local manufacturers looked to outsource production and investigate supply chains further afield: according to SC-IQ, Taiwan now has the highest electronics manufacturing growth in the region, averaging 15 per cent in the first three months of the year.
"Looking at US imports of electronic equipment in the first quarter of 2019 versus a year ago gives an indication of the trends," Bill Jewell, founder of SC-IQ, wrote in a blog post.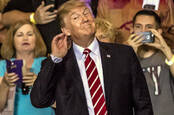 Timely Trump tariffs tax tech totally: 25 per cent levy on modems, fiber optics, networking gear, semiconductors…
READ MORE
"Overall US imports of electronic equipment were $58.8 billion in 1Q 2019, down $2bn or 3.4 per cent from 1Q 2018. Imports from China were down $3.7bn, or 11 per cent. Imports from Mexico held steady at $10.9bn. Vietnam has emerged as the third largest source of US electronics imports, with $4.4bn in 1Q 2019, up $2.2bn or 95 per cent from a year ago."
Jewell noted several real-world examples of the way the trade dispute has accelerated the growth of electronics production in Vietnam: LG recently moved some of its manufacturing from South Korea to Vietnam; China's TCL – the world's third largest producer of TVs – is building a factory in Vietnam; contract manufacturer Key Tronic is set to open a new manufacturing facility in the country in July.
In related news, White House economic adviser Larry Kudlow went on TV on Sunday to state that it was incorrect to claim the the tariffs will be paid by China. He suggested that most of the cost associated with imports into the US will be passed on to American consumers, at least in the short term.
And yet, the Trump administration is working to impose further 25 per cent tariffs on all Chinese goods that haven't been affected yet – that's some $300 billion worth of products. ®