This article is more than 1 year old
British Army down thousands of soldiers after outsourcing recruitment IT to Capita
But have latest changes finally made a positive difference?
The British Armed Forces have shrunk 1 per cent over the past quarter, with the Army more than 8 per cent below its manpower target for 2020.
The statistics paint a grim picture of how Capita's disastrous Recruiting Partnership Project, underpinned by a bespoke IT system for recruiters, is affecting the Army.
Newly released figures show that on 1 April this year the Army was 8.5 per cent short – 6,930 soldiers – of its headcount target of 82,000, a number the military must reach by next year. Intake – the number of recruits joining the Army – decreased over the past 12 months by 3.2 per cent, even as Navy and Air Force recruiting numbers increased.
Both the RAF and RN are each around 1,500 people short. The Ministry of Defence has withheld £26m from Capita over the fiasco, which led to generals and civil servants being labelled "naive" by investigating MPs.
A graph prepared by The Register shows what happened to the numbers of people joining the Army when the full Capita recruiting software went live in late 2017: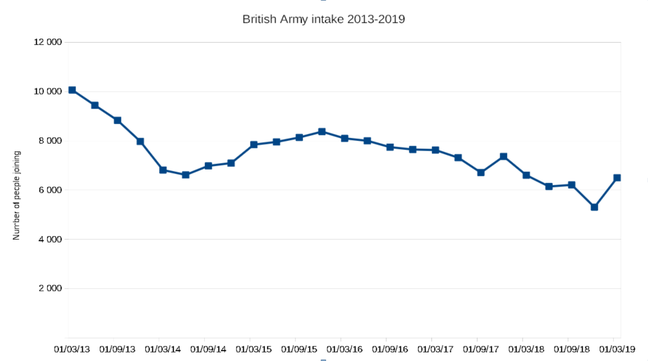 Recruits joining the British Army, 2013-2019. Click to embiggen
Capita has previously told us that it is "looking at ways to speed the process up" of getting civilians into the military, and the last quarter's numbers appear to show improvement. It is, however, a far cry from 2013 when in-house military recruiters were doing the job for themselves.
The MoD said: "We are fully committed to improving our recruitment process, including working with Capita to ensure any challenges are being addressed." ®