China today signaled that it's in no mood to roll over and play nice in the ongoing trade war with America, promising instead to "fight to the end."
Last week's decision by President Trump to further increase import tariffs on Chinese goods was followed up yesterday by a national emergency proclamation engineered to, eventually, boot certain foreign makers of telecoms equipment (cough, cough, cough, Huawei) out of all of America's networks, private and public.
This has not gone down well in China. In response to the White House's declarations this month, Beijing's ambassador to the UK Liu Xiaoming has written an impressively passive-aggressive editorial laying out the Middle Kingdom's position.
"It is obvious that some promises are broken, not by China but by those brandishing the baton of tariffs against China," he wrote in London's Evening Standard newspaper on Thursday.
"China does not want a 'trade war' but it is not afraid of one and would fight one if necessary. China is always open for talks but it would fight to the end should a 'trade war' break out."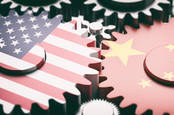 China trade tariffs? Fuhgeddaboudit, say Cisco execs. We, er, shifted some production
READ MORE
He added both sides should "respect each other, treat each other as equals, and strive for a mutually beneficial deal."
Meanwhile, Lu Kang, a spokesperson for China's Foreign Ministry, vowed Beijing would take action against America in response to Trump's "abuse of export control measures," though stopped short of saying exactly what that retaliation would look like. "China will take further necessary measures to resolutely safeguard the legitimate rights and interests of Chinese enterprises," said Lu.
Next, eggheads at Princeton and Columbia universities in the US estimate that the import tariffs are costing the Land of the Free $6.6bn a month, or $628 per household a year: don't forget, it's typically American companies importing Chinese components and products that have to pay the new levies, which may be passed on to customers. The White House hopes Chinese manufacturers will lower their prices to offset the tariffs and remain competitive, or that American businesses will shop elsewhere, either picking up homegrown parts or using non-Chinese kit.
In Cisco's case, at least, it shift some of supply chain out of China to other countries to avoid paying the extra tariffs. Indeed, it appears the President's import charges are having some effect: US manufacturing output has grown slightly faster than it did a year ago, and Taiwan and Vietnam also saw a lift, while production in China has slightly slowed down. ®