Cisco has said US president Donald Trump's latest trade tariff hike on Chinese imports barely forced it to up its own prices because it had shifted some production outside the Middle Kingdom in anticipation of the policy.
At the close of last week, the US slapped a 25 per cent duty on $250bn worth of stuff – some 5,200 categories of products – including semiconductors, modems, optical fibre equipment and networking gear.
This is the second such move from the Trump administration, kicking off a trade tariff war with counterparts in China late last summer when a 10 per cent levy was stuck on Chinese imports.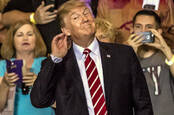 Timely Trump tariffs tax tech totally: 25 per cent levy on modems, fiber optics, networking gear, semiconductors…
READ MORE
Chuck Robbins, Switchzilla's CEO, told analysts on a conference call to discuss Cisco's latest financial results that there were three phases to its strategy since the imposition of tariff increases in September.
"The first was we would continue the dialogue with the [US Trump] administration to make sure they understand the impact. The second is, we'll continue to do what we've always done, which is optimise the supply chain... and then the third is we'll make pricing adjustments where necessary, if needed."
Robbins added that his teams had been burning the midnight oil over the last six months to counter the potential tariff rise.
He said: "And so last week when we saw the indication that the tariffs were going to move by 25 per cent on Friday morning (US time), the teams kicked in and we actually have executed completely on everything that we needed to."
Following the 10 per cent tax in September, Cisco reacted by raising its own prices by an average of 7.8 per cent, though some lines moved by less than 5 per cent and one, Carrier Packet Transport, went up 25 per cent.
The tariffs have the potential to redraw the power dynamics in the technology sector and hit hard for some vendors that relied on lower-cost manufacturing in the communist country. Apple, for example, lies directly in the line of fire. Production is already shifting to other relatively nearby nations including Thailand and Vietnam.
Cisco's Robbins last night branded the latest impact as "very minimal", and that the rise was "baked" into short-term revenue forecasts.
Cisco CFO Kelly Kramer said: "We still have some manufacturing in China" but added that the vendor has "greatly reduced our exposure working with our supply chain and our suppliers."
Results for Cisco's Q3 of fiscal '19 ended 27 April were reported last night: revenues jumped 6 per cent to $13bn, with product sales up 7 per cent to $9.722bn and services up 9 per cent to $3.236bn.
Kramer said security was up 21 per cent for Cisco driven by ID and access and advanced and unified threats. Applications was up 9 per cent and Infrastructure Platform up 5 per cent. The Americas grew 9 per cent, EMEA was up 5 per cent and Asia Pacific, Japan and China slipped 4 per cent. ®