This article is more than 1 year old
OK, Google, please do a half-hearted U-turn: Stay of execution for smart home APIs after Big G goes cuckoo in the Nest
Plan to force everyone onto Assistant stalled after customers say: Mess with the Nest, die like the rest
Google has backtracked somewhat on a plan to kill off the popular Works with Nest smart home program after customer fury.
"We hear you," began the headline to a blog post by product director Michele Turner on Thursday morning, before noting that the ad giant "received a lot of questions" about its plan to retire the program and in response wanted to "share our updated plan and clarify our approach."
Which is PR speak for: we underestimated, yet again, how much people like Nest, how much they do not feel the same way about Google, and they said as much, very loudly and clearly.
Last week, Google announced what everyone had been (somewhat unhappily) expecting: that it was going to fully merge with Nest, the smart home company it bought in 2014 for $3.2 billion. Recognizing the significant value in the brand name, however, it announced it would henceforth be called "Google Nest."
More significantly, however, Google said it was going to shift Nest users to Google accounts, and would shut down the Works with Nest program – which allows third-party products and software to control and use Nest's thermostats, smoke alarms, motion sensors and cameras etc – and would drive them to its Google Assistant system instead.
The decision was met with stony faces, and then anger, from Nest users. Aside from the fact there is a risk that Google will cut off smart home competitors, such as Amazon's Alexa, there is the significant issue that users have often invested time, energy, and money into developing a system that works for their home and don't want to have to spend more money and effort just because Google wants more control.
Plus there is the fact that a large percentage of smart home users are acutely aware of how their data is stored and shared, and don't trust Google not to absorb that highly personal information and match it with the vast databases the US giant already has on them. Oh, and there's the fact that Nest's smartphone app is really quite good, and Google's is, well, not.
Googley
In short, people like and trust Nest. The same is not true for Google. And because they exist in an almost cult-like atmosphere, Googlers (yes, they call themselves Googlers) don't understand that simple fact. Or that when they say something is "Googley" – which Googlers do with disturbing frequency – everyone else in the world recoils in horror.
But in this case, Nest user anger appears to have broken through the bubble: product director Turner has promised that they won't be required to shut down their Nest account, and Google will continue to support any and all automation that people already have with third-party products.
But it's only for a short while. Google will still put an end to the program going forward: from August 31, this year, any new products or automation will have to go through Google Assistant. And if you want to use them, you will need to set up and use a Google account. Any existing product and software will continue to use the APIs in place today as normal.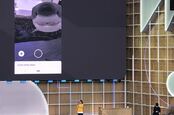 Google jumps the shark from search results to your camera: Nest Hub, Pixels, and more from ad giant's coder confab
READ MORE
For now at least, the decision will also stop Google from cutting off smart home rival Amazon and its Alexa digital assistant.
"We recognize you may want your Nest devices to work with other connected ecosystems," Team Google said. "We're working with Amazon to migrate the Nest skill that lets you control your Nest thermostat and view your Nest camera livestream via Amazon Alexa. Additionally, we're working with other partners to offer connected experiences that deliver more custom integrations."
But, as ever, the devil is in the detail. The post goes on to say: "For these custom integrations, partners will undergo security audits and we'll control what data is shared and how it can be used."
In other words, Amazon will shortly be told by Google "it's our way or the highway," and Amazon will have to figure out whether it wants to play by Google's rules and either cut down its data collection or, more likely, share that data with Google – or walk away from the whole Nest market.
Yummy data
And that, in a nutshell, is why so many Nest users were upset when Google bought the company in the first place. It was only a matter of time before its products got sucked into Google's data-harvesting machine. We are now there. Except after user anger and the risk of pushing loyal customers with money into the arms of its competitors, Google is going to delay the takeover for a bit.
There are of course some useful elements to Google Assistant. It works as well, if not better, than other voice activated digital services and it is relatively ubiquitous.
The problem is that Google wants you to use its Assistant to do everything – from booking a table to checking your calendar to contacting friends and family – and it keeps prodding its products in that direction. Whereas what many smart home users want – and will joyfully tell you – is the ability to turn up the heat, or turn down the lights with a voice command. And very little else.
If nothing else, if Google would just stop requiring people to say "Ok Google" every time they want to do something with a voice command, it would help. Because Google, not everyone is OK with Google, OK Google. Google, Google, Google. Goooooooogle. Goooooooooooooooogle. ®