Buying an entire bottle of house red at a restaurant is often enough to make wallets scream with terror, but one fortunate diner at Hawksmoor in Manchester saved a corking £4,240 when they were served the wrong Bordeaux last night.
Yet wine the posh noshery did not, copping to the error on Twitter with good humour after making the chilling discovery. After all, it's unhealthy to keep things like that bottled up.
Despite being screwed out of thousands by some pour soul among the waiting staff, the steakhouse only shrugged: "Chin up! One-off mistakes happen and we love you anyway."
To the customer who accidentally got given a bottle of Chateau le Pin Pomerol 2001, which is £4500 on our menu, last night - hope you enjoyed your evening! To the member of staff who accidentally gave it away, chin up! One-off mistakes happen and we love you anyway 😉

— Hawksmoor Manchester (@HawksmoorMCR) May 16, 2019
The clearly already well-heeled customer had ordered a £260 Bordeaux, the 2001 Chateau Pichon Longueville Contesse de Lalande. What arrived at the table was a bottle of "the same vintage", a spokesperson told the BBC – just 1,730 per cent dearer.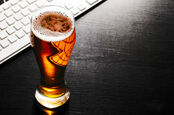 'It's full of beer!' Miracle fridge reveals itself to pals tuckered out from cleaning flooded cabin
READ MORE
The mouthpiece explained: "It was a very busy night at the restaurant and a very simple mistake.
"A member of staff picked up the wrong bottle, mistaking it for another Bordeaux of the same vintage.
"The wine went out and was served to the customer.
"The customer didn't know and it was only afterwards that one of the managers picked up what had happened."
According to Cult Wine, only 500 cases of the 2001 Chateau le Pin Pomerol were produced. The Bordeaux is listed on the Hawksmoor menu for £4,500 (pretty good considering what enthusiasts are willing to pay for the stuff).
To quote a review by Neal Martin from the online guide: "This has a decadent bouquet with immense richness and voluptuousness, an almost honeyed bouquet with marmalade and sloes, Maraschino cherries and apricots. The palate is medium-bodied with a very sweet, luscious entry, rounded and generous with I suspect a lower acidity level than its peers. That honeyed theme continues right to the finish, although it slightly detracts from the essence of Bordeaux and could actually be a very fine Napa wine."
And to think the heathens guzzled it like a £260 plonk. It's enough to make you blush.
Oh well. Everything happens for a riesling – The Register imagines all the extra attention for the eatery will be grapefully received. ®