CEO Elon Musk is to embark on a comprehensive expenses review at Tesla, according to Reuters.
The 'leccy car maker recently completed a $2.7bn fundraising round to increase production. But at the rate it is spending money, that gives it less than a year to balance the books.
In an email seen by the newswire, Musk warned staff: "That is why, going forward, all expenses of any kind anywhere in the word [sic], including parts, salary, travel expenses, rent, literally every payment that leaves our bank account must (be) reviewed."
This is not the first attempt to trim expenses at the company: last year Tesla cut 9 per cent of its workforce; and earlier this year it closed most of its dealerships and shifted to online-only sales.
In the first quarter of 2019, Tesla lost more than $700m despite sales of $4.5bn. It made and sold 63,000 Model 3 cars, up 3 per cent on the previous quarter, which it blamed on changes to production and "supplier limitation".
While the company has had no trouble collecting publicity and love from its customers, Tesla has struggled with the realities of scaling up production while controlling costs.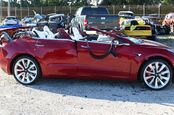 Tesla driver killed after smashing into truck had just enabled Autopilot – US crash watchdog
READ MORE
Musk revealed in the middle of last year the company's problems with "flufferbot" – an attempt to automate installation of sound-deadening mats on top of batteries in the Model 3. The robot was replaced with humans who proved better at picking up the mats. Subsequent testing found the mats had limited impact on sound levels in the cabin so they were removed completely.
In other news, a preliminary accident report into a fatal crash involving a Tesla 3 in Florida suggested that the car's self-driving AI Autopilot was switched on when the incident occurred. It seems neither driver nor AI took any action.
Yesterday the company updated battery software on Models S and X following vehicle fires in Hong Kong and Shanghai. Tesla said it was acting out of "an abundance of caution" and its engineers are still investigating the incidents. ®