This article is more than 1 year old
Intel budges Samsung out of its seat at the top of silicon-slinger league
As most chip suppliers take a hit on sales
Having been humiliated by Samsung in 2017, Intel has reclaimed its customary place as the world's largest semiconductor supplier.
According to market research firm IC Insights, Chipzilla shipped $15.8bn worth of silicon in the first quarter of 2019 – roughly the same amount it got out of the door in Q1 2018 – while everyone's favourite chaebol only managed $12.87bn, with sales down 34 per cent year-on-year, the sharpest decline among the top 15.
"With the collapse of the DRAM and NAND flash markets over the past year, a complete switch has occurred, with Samsung having 23 per cent more total semiconductor sales than Intel in 1Q18 but Intel having 23 per cent more semiconductor sales than Samsung just one year later in 1Q19," the analysts reported.
IC Insights includes not just integrated circuits, but also optoelectronic silicon, sensors and discrete packages, in its calculations.
The same products that got Samsung to the top later conspired to bring it down: 2017 was defined by the rapid expansion of the memory market, where the company excelled. According to Gartner, overall memory revenue saw an uptick of 61.8 per cent over 2016.
But 2018 brought gradual erosion of NAND and DRAM sales, caused by multiple factors including low demand for consumer devices and the dearth of low-end Intel CPUs.
By March 2019, prices of DRAM silicon suffered their largest decline in nearly eight years, according to DRAMeXchange, with costs falling by nearly 30 per cent, hitting vendors like Micron, SK Hynix and, of course, Samsung.
SK Hynix's sales shrank 26 per cent year-on-year to $6bn in Q1, the analysts reported, while Micron took a 27 per cent reduction to $5.475bn.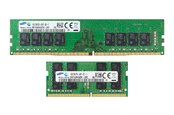 God DRAM, that's a big price drop: Memory down 30 per cent, claim industry watchers
READ MORE
"DRAM pricing weakened more than expected," Micron's president and CEO Sanjay Mehrotra said in March. "However, as we discussed on our last earnings call, we still expect DRAM bit shipments to begin increasing in our fiscal Q3, with demand growth strengthening in the second half of calendar 2019 as most customer inventories are likely to normalize by mid-year."
Taiwanese super-fab TSMC proved a little more resilient: its sales decreased by 16 per cent, to around $7.1bn.
Japanese memory maker Toshiba lost almost a third of its sales, bringing in $2.65bn for the quarter.
Fabless GPU vendor Nvidia had its own troubles, not linked to either NAND or DRAM – its sales were down 29 per cent to $2.2bn.
In total, the world's 15 largest silicon suppliers saw their sales erode by 16 per cent year-on-year.
The only two businesses to come out better than a year ago were Sony and Huawei's fabless chip design outfit HiSilicon. The former grew shipments 14 per cent to $1.7bn when compared to Q1 2018, mostly driven by demand for its imaging sensors, while the latter managed an impressive 41 per cent hike, with $1.75bn in sales.
With the rest of the market in disarray, both companies entered the top 15 for the first time.
IC Insights forecast that Intel would easily recapture the number one ranking for the full 2019, a position Chipzilla held from 1993 through 2016. ®