This article is more than 1 year old
DRAM, that's cold: Overclockers squeeze out extra Micron DDR4 performance with liquid nitrogen system
Hardly practical but the headroom is there
Micron's Ballistix Elite brand of DDR4 memory has been overclocked by almost 60 per cent using liquid nitrogen cooling.
Overclocking memory increases bandwidth and transfer speed but ramps up its temperature. It's useful when gaming speed is held back by memory bandwidth rather than being gated by CPU or video card speeds.
Ballistix Elite is Micron's memory for gaming systems, which normally operates at 3,600 megatransfers per second. It was accelerated to 5,726MT/s, a world record, with the nitrogen preventing overheating.
Liquid nitrogen is stored in vacuum flasks and typically held constant at −195.79°C (77K or −320°F) by the slow boiling off of nitrogen gas. For reference, absolute zero is 0K or -273.15°C (-459.67°F).
The feat was accomplished on 13 May by Stavros Savvopoulos and Phil Strecker, members of the Overclocked Gaming Systems (OGS) team, using this system setup:
Intel i7-8086K 'Coffee Lake-S' CPU
ASUS Maximus XI Apex Motherboard
Ballistix Elite 3600MT/s 8GB module
This how their rig looked with the cooling system mounted: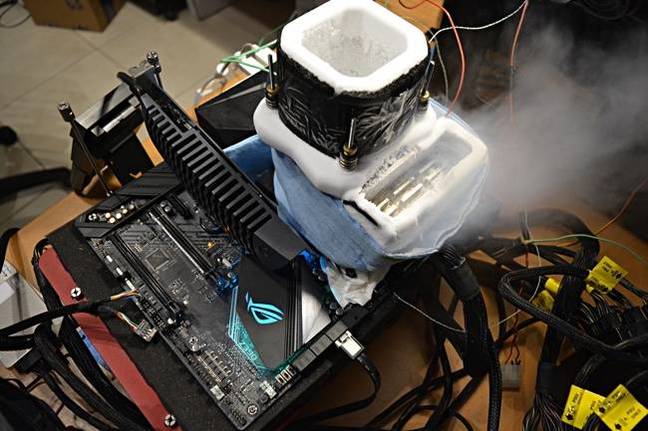 Ballistix Elite DRAM cooling with liquid nitrogen
The record was posted on HWBOT.org validated by a CPU-Z screenshot.
Teresa Kelley, VP of Micron's Consumer Products Group, said: "Our Ballistix product lineup provides the high-speed, low-latency and overclock headroom that gamers, content creators, and enthusiasts crave."
That's the takeaway here – not that gamers can ordinarily use liquid nitrogen, but that Ballistix Elite DRAM has a lot of overclocking headroom.
However, if you really want to go all out on liquid nitrogen, EVGA Gaming has a Roboclocker that might do the job. ®