Nvidia keeping mum on outlook for year as data centre slows, channel chokes on crypto crap
The term, we believe, is 'rekt': GPU giant loses nearly $1bn in sales, profits fall 68%
It might be a new financial year for Nvidia but familiar problems still dog the GPU specialist: the channel remains filled with too much stock and some hyperscale cloud providers aren't opening their wallets.
The company reported revenue of $2.2bn for Q1 of fiscal '20 ended 28 April, this was down a monster 31 per cent year-on-year (or $987m lower), but up 1 per cent on last quarter's car crash numbers.
Gaming revenue dived 39 per cent on the year ago period to $1.05bn. CFO Colette Kress said on a conference call with analysts it had reduced inventory in the channel but clearly not to a level that allowed Nvidia to freely ship again. The problems emerged in the last financial year when Nvidia's bet on crypto miners hoovering up GPUs failed.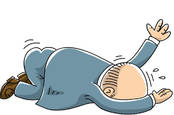 Crypto crash leads to inventory pile-up at Nvidia, sales slaughtered
READ MORE
Kress made no reference to weak economic conditions in China that dampened sales in the Gaming division in Q4 of its previous financial year.
Data centre revenues fell 10 per cent year on year and 7 per cent sequentially to $634m. Nvidia said this "reflected the pause in hyperscale spending" – though claimed some had actually "bounced back nicely".
Nvidia bid $6.9bn cash for interconnect company Mellanox in the quarter to improve its data centre strategy and sees the two companies' tech in use with 250 of the world's top 500 supercomputers.
The Pro Visualisation unit grew 6 per cent "driven by both desktop and mobile workstations" to $266m, and Automotive grew 14 per cent to $166m amid a "growing adoption next generation AI cockpit solutions".
Net income for the quarter was $394m, down 68 per cent from $1.244bn a year ago. Ouch.
Kress, said the company would not be giving guidance for the full financial year because of continued uncertainty around its data centre business.
While gaming remains solid, she claimed: "We are still experiencing I think the uncertainty as a result of the pause in terms of – with the overall hyperscale data centres. And we do believe that's going to extend into Q2." ®