On Call It's Friday, and so it must be time to remember the days when standby tech support staff were blessed with nerves of steel in today's On Call.
Slip a prawn on the barbie and crack open a cold one for this tale of derring-do from a correspondent we shall refer to as "Jim".
At the time, Jim was pulling 24-hour shifts as tech support for the Australian Emergency Service. Although these stints could last for a week, Jim told us the day-to-day (and night-to-night) was "usually nothing special and most things could be managed remotely from home".
One night, however, bad weather was expected with high winds and plenty of rain. Australia, as natives will know, specialises in proper weather rather than the aggravated drizzle the Brits call a "storm".
At 19:00 Jim received the dreaded call. The phones in the backup emergency centre were not working – a hardware issue unsolvable by simply poking about via remote access. Jim's request for further information was disregarded by the caller, "a fairly high-ranking officer in the organisation with a background in the military and police", who barked something like: "DON'T ASK ME STUPID QUESTIONS, JUST GET YOUR ASS OUT THERE AND FIX THE [expletive deleted] PROBLEM."
We imagine Australian is a splendid accent in which to be shouted at given clear and direct instructions.
Jim jumped into his car and made the trek to the centre in driving rain and "visibility 10 metres or less". It was, as Jim understated, "not a good time to be on the road", but orders were orders, and if there is anywhere that needs working phones during a storm, it is an emergency centre, backup or not.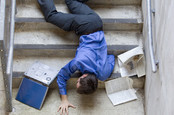 Techie with outdated documentation gets his step count in searching for non-existent cabinet
READ MORE
Having survived his ordeal, Jim marched in and "picked up a phone and called my mobile, all working, no problems".
Odd.
Jim popped into the duty office and asked for an explanation of the issue, only to be told "there isn't a problem – we just can't find the conference phone. No problem, though, we used the handset on hands-free mode."
Ah.
Jim brought his highly tuned IT skills to bear on the problem, lifted a newspaper left on the table, and revealed the missing device.
Mystery solved.
As he prepared to head back out into the ferocious weather, Jim spotted a notice stating that "no personnel are to attend an incident during the storm, except if there is a life-threatening situation".
Er, like leaving the paper on top of the phone?
The notice concluded: "We don't want any staff sustaining injuries from flying debris."
Not at all bitter, Jim observed: "Makes you feel really valued as a member of the organisation."
Ever found yourself on the receiving end of a call from Shouty Man, only to find he was actually Silly Man? Of course you have. Tell On Call all about it. ®