The winner of a Russian talent show for children has been stripped of her crown following confirmation that software was used to swing a public vote in her favor.
There was a national outcry when 11-year-old Mikella Abramova won the top telly talent show The Voice Kids with 56.5 per cent of a public poll, bagging over 30,000 votes, ten times more than any other contestant. Abramova is the daughter of popular Russian singer Alsou and Russian millionaire Yan Abramov, and you can judge her singing for yourself below...
The show's broadcaster Channel One called in security shop Group-IB to check the results, and the infosec crew found signs of classic bot behavior. More than 8,000 text messages voting for the kid were sent from roughly 300 consecutive phone numbers, from the same telco in one region of the country, and all of the numbers have since been shut down. But there was also a more definite smoking gun.
"The analyzed traffic revealed massive automated SMS spamming in favor of one of The Voice Kids participants," said the security shop in its preliminary report on Thursday.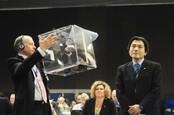 Dear America: Want secure elections? Stick to pen and paper for ballots, experts urge
READ MORE
"That said, a technical problem arose on the side of the persons involved in the massive vote manipulation, which resulted in a piece of code designed to automate the sending of messages being included into the text messages in the form of «07 31: 2019-04-26 22:47:31», where 07 is the participant's number."
The broadcaster declined to cast any blame for the cack-handed vote rigging attempt, though rescinded Abramova's win. The competition will now be held again and voted on, with much closer attention paid to how the votes are cast.
"We believe that children should not be held accountable for actions not taken by them," Channel One said in a statement. "Channel One makes an unprecedented decision to hold a separate special edition of the project live on May 24 with the participation of all the finalists." ®