This article is more than 1 year old
SpaceX takes a leaf from the Microsoft playbook and stands down Starlink for an update
Also: Repeated reboots to get a Windows 10 update installed? Just like the (not so) old days
What do Windows 10 and SpaceX's Starlink launch have in common? One needs updating and might explode without warning. The other is an operating system.
Patch trekking, across the universe
Space fans waiting for Elon Musk's mighty missile to lob its heaviest ever payload into orbit were disappointed for a second day running last night as the company stood down the Falcon 9, citing a need to update the satellite software and "triple-check everything again".
The launch had been scrubbed 24 hours previously because of excessive upper-level winds. The company recycled the rocket for last night, but opted to stand down. It is, after all, always handy to make sure your software is up to date. Just ask the unfortunates still using Windows XP.
When they do finally launch – hopefully next week – the 60 Starlink satellites will start their deployment at an altitude of 440km and use onboard Hall thrusters, powered by krypton, to make their way to an operational altitude of 550km and adjust position when needed. The Hall thrusters will also be able to de-orbit the satellites, with 95 per cent of the components of each 227kg bird burning up on re-entry.
The satellites are also equipped with a Startracker navigation system and can autonomously avoid collision, so making sure the software is working correctly makes a lot of sense, as Tesla drivers will attest.
Once in orbit, Musk boasted that the power generated by the satellites will generate more power than the arrays of the International Space Station (ISS) and the 60 will deliver 1 terabit of bandwidth to lucky Earth-dwellers.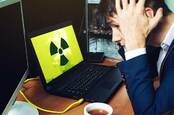 Microsoft emits free remote-desktop security patches for WinXP to Server 2008 to avoid another WannaCry
READ MORE
He went on to tweet that another six launches of 60 would be enough for initial coverage, with 12 launches giving "significant" coverage. Many more Falcon 9s (or a few Starships) would be needed to get the thousands of Starlinks promised by Musk into orbit.
When it finally launches, hopefully next week, SpaceX plans to recover the first stage of the Falcon 9, previously used for last September's Telstar 18 VANTAGE mission and January's Iridium-8. The spent stage will be aiming for the "Of Course I Still Love You" drone ship, stationed in the Atlantic ocean.
Throwing away that first stage would potentially allow SpaceX to pack even more satellites onto the Falcon 9.
Going once, going twice... patch Tuesday installation fun and games
SpaceX were not alone in playing the update fandango, as Windows 10 users found Tuesday's patch installation seemingly repeating itself repeating itself.
@MicrosoftHelps So yesterday my PC successfully installed update KB4494441, so any idea why it has just redownloaded it and scheduled a reboot to install it again? pic.twitter.com/HHYBOEm8BS

— Andy B (@Buldrin) May 16, 2019
Microsoft admitted an issue with KB4494441. While maintaining a careful line of "nothing to see here", the company reminded users that, hey, sometimes updates take a while and need to restart a few times.
Small comfort to users who found the thing twice in their update history.
The issue only appears to affect the cursed Windows 10 October 2018 Update (aka 1809) and Microsoft has said it is working on a fix to "ensure the Update history correctly reflects the installation of the latest cumulative update". In the meantime, just sit back and enjoy the nostalgic thrill of multiple restarts, because there is stuff in this update that you really need to get installed.
Unless, of course, you need to access some of UK government sites. Patch Tuesday for Windows 10 also added "gov.uk" to the HTTP Strict Transport Security Top Level Domains (HSTS TLD) for Internet Explorer and the original Microsoft Edge. In what will be a surprise to nobody, it hasn't gone well.
@GOVUK Which idiot had Microsoft enforce HSTS for all https://t.co/yGLIagZ2cc domains in the latest Windows patches. A number of websites for non-central government websites are now inaccessible to IE and Edge users on Windows 10...

— John Roberts 🇬🇧🇪🇺 (@MagicBoyUK) May 15, 2019
Not to worry, though – team Microsoft is "working on a resolution and will provide an update as quickly as possible". ®