Mind the crane: Windows Server containers loaded up on the Azure Kubernetes Service
Let's lift again, like we did last summer, let's shift again, like we did last year
---
From the department of "and about time too" comes news that Microsoft's Azure Kubernetes Service (AKS) now supports Windows Server containers, in preview form at least.
It has been a while coming, with Windows Server fans casting envious glances at the Linux love-in underway within the house of Windows, but as of now it is possible to manage Windows Server and Linux containers side by side in the same Kubernetes cluster using AKS.
The Kubernetes gang shunted support for Windows nodes out of beta and into production in March, with the 1.14 release.
The change opens up a number of scenarios, from a simple-ish lift-and-shift of Windows Server applications to the container-happy world of AKS, through managing the Linux and Windows Azure world via a single unified API to mixing things up in the same Kubernetes cluster while enjoying the same monitoring and deployment tools.
Windows Server container users can also use the Container Registry service to replicate images to an Azure data centre near to their users, for compliance reasons or just to cut down on latency, and Azure DevOps integration with AKS should mean validation and shunting to production works the same on any OS.
At least, that's the theory.
Amazon flung open the doors on Windows Container support back in March with a developer preview of the Amazon Elastic Container Service for Kubernetes (EKS) aimed at Windows Server workloads. Like Microsoft, the tech is geared up for running containerised code for both environments using Kubernetes.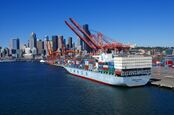 Red Hat OpenShift 4 opens its doors to more Kubernetes goodness
READ MORE
Amazon kicked things off from Kubernetes version 1.11. Microsoft is more about 1.13.5 and 1.14.0, although, as Microsoft's Gabe Monroy, Lead PM, Azure Container Compute told The Register at Build, the company would like to see some sort of Long Term Support (LTS) program happening in Kubernetes to reassure those enterprises a little nervous about throwing their lot into a container world. Monroy told us he would look to the Cloud Native Computing Foundation (CNCF) to take the lead.
Google, despite being the spiritual home of Kubernetes, trails a little. The Google Kubernetes Engine (GKE) lacks Windows Server container support at present. However, the company announced plans in its forums in April to launch an early access program for the technology "in 2019". ®