This article is more than 1 year old
Jeff Bezos finally gets .Amazon after DNS overlord ICANN runs out of excuses to delay decision any further
Persistence pays off for online super-souk, but not for South American states
Analysis It's taken seven years but online mega-mall Amazon will finally get its hands on the .amazon top-level domain name.
That's the upshot of a meeting of DNS overseer ICANN last week in which the organization's board finally made a decision that it has repeatedly sought to avoid. Even the final resolution approving .amazon is written so opaquely that you could be forgiven for missing its import.
"The Board finds the Amazon corporation proposal of 17 April 2019 acceptable, and therefore directs the ICANN org President and CEO, or his designee(s), to continue processing of the .AMAZON applications according to the policies and procedures of the New gTLD Program," it reads.
The Jeff Bezos-run Amazon will likely get control of its internet namesake this summer. It intends to run it as a brand business with a small number of domain names that reflect its core businesses. So we may see internet addresses like "books.amazon" and "alexa.amazon" before the end of the year.
Quite how much or whether Amazon decides to shift its massive online business over to the new extension is uncertain. There were initially high hopes for so-called "Brand TLDs" – where large corporations would set up their own internet registries to reach customers directly – but they have ultimately fizzled.
Amazon applied for its namesake top-level domain back in 2012, along with just over 1,000 other organizations. The resulting 1,930 applications covered 1,409 different endings (some names had multiple applications) and 34 per cent of them (over 650) were brand names, like .google, .heinz, .ferrari, .ibm, .intel and so on.
But there are only a handful of companies that have launched on their dot-brands, and a growing number – now over 50 – have simply abandoned the names, formally telling ICANN they are no longer interested. Examples include fashion brand Chloe and luxury pen outfit Mont Blanc.
But while all those names were approved and went live on the internet relatively quickly, .amazon has been in internet purgatory since 2013. Why? Because of who objected to it: a group of South American countries through which the river Amazon flows.
Snowden
There is some debate over how and why the governments of Brazil and Peru in particular became so opposed to the .amazon internet extension, especially after they raised no objections until the very end of the initial approval process.
There is good reason to believe that the decision was primarily pushback by the Brazilian government after its then-president Dilma Rousseff discovered - thanks to Edward Snowden - that the US government had been tapping her mobile phone.
The Brazilian government was so incensed it ordered its diplomats to hurt US interests in whatever ways they could. The internet was an easy target, especially with the launch of the "new gTLD process"; a process dominated by American corporations.
The Brazilian government also strongly opposed the US government's role in overseeing ICANN and ultimately succeeded in getting the US Department of Commerce to step away from its role and provide the organization with real autonomy.
In that bigger fight over internet governance, .amazon has been an unwitting hostage. But once the decision to oppose .amazon was made, there was little or nothing Amazon or ICANN could do to dissuade them. The ACTO (Amazon Cooperation Treaty Organization) member states may have even started to believe that .amazon represented a threat to their region and culture.
But on May 15 – last week - the ICANN board was finally put into the position where it had no choice but to approve the application. Even now it is trying to deflect some of the responsibility by saying it will put out the "public interest commitments" that Amazon has made over how it will run the .amazon registry out to public comment and only then decide for certain.
Those commitments [PDF] include things like giving the government a list of 1,500 protected words reflecting their region that won't ever be added to the internet, not opening the registry up to general public use, giving nine domains to ACTO for its exclusive use, making sure the registry uses the latest security technology, and so on.
It's not clear if Amazon's previous deal of free Kindle e-book readers and free AWS web hosting to the ACTO governments holds or not. That deal was rejected and instead the governments asked to jointly run the .amazon registry; something that was a non-starter for Amazon.
Attack the Block
It is easy to forget however that ICANN initially blocked the .amazon extension based on objections from the Brazilian government, made through its Governmental Advisory Committee (GAC). That block was eventually lifted after Amazon went through all of ICANN review processes – a lengthy and time-consuming process - and ended up with an independent body of retired judges who dug into the issue.
Those judges concluded that ICANN had broken its own bylaws by blocking the application without giving a single credible reason why. It hadn't even allowed Amazon to respond to the concerns raised by governments before deciding the application couldn't proceed.
The final report should have created a scandal, especially since ICANN had done the exact same thing 12 years earlier with the application for .xxx.
That time, ICANN blocked the application for the adult top-level domain under pressure from the US government. But again there was no real rationale for the block, and the company applying for it had to embark on years of constant lobbying and fighting to force ICANN to adhere to its policy processes.
ICANN eventually backed down and approved it in March 2011 – seven years after it had given preliminary approval to the extension.
In the .amazon case, ICANN tried to avoid the same fate by repeatedly trying to get the ACTO countries and Amazon to reach agreement between themselves. That process soon became a parody of itself, however, with the governments stringing out the process and reacting in mock horror when, every year or so, ICANN inquired about progress and suggested it would approve the extension as a way to push resolution.
In the end, after years of negotiations that should have lasted just months, ICANN ran out of options when the process started compromising its own CEO – who had been authorized at that point to lead the discussions but who kept finding his efforts to have a meeting rebuffed.
As such, the ICANN Board decided last week that Amazon's proposal is "not inconsistent" with the formal advice it received from the governments and that "there is no public policy reason for why the .AMAZON applications should not be allowed to proceed."
Lessons learnt?
But before you celebrate the fact that the organization that oversees the internet ultimately decided that policies and processes should trump political influence, consider the fact that this reporter asked repeatedly and formally last week whether a decision had been made and was told that none had been.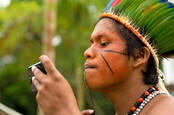 Never mind that naked selfie scandal... Brazil lights the, er, kindling, dot-Amazon saga roars back into life
READ MORE
Instead, ICANN spent four days producing its carefully worded version of events in which it portrays itself as a hardworking and reasoned broker. The more uncomfortable reality however is that it the organization distorted its own processes and broke its own bylaws to accommodate governmental pressure – as it did in 2005 with .xxx.
It required seven years of determined effort by one of the world's largest companies to force the organization to adhere to its own rules. And even after all that, ICANN still felt the need to attempt to rewrite history to tell itself and others that it did the right thing all along.
That is not a sign that the organization that oversees the domain name system has learned from the experience. And so in future we can expect to see the same mistake repeated again.
It been a long and tedious but ultimately fascinating interplay of commerce and politics at the internet's overseeing body – and the rules won out. ®