Storage roundup It's a garage sale of storage info this morning, including faster IBM object storage, Rubrik hiring a Google veteran, Nakivo backup supporting Nutanix AHV systems and much, much more.
WD and Toshiba extend flash JV to 2034
Western Digital and Toshiba have agreed to extend their Flash Forward Joint Venture for over 15 years more - until 31 December 2034 - and fund the previously announced K1 fab at Kitakami, Iwate prefecture, in Japan.
Toshiba owns the K1 fab building and is paying for its construction. WD has to pay for half of its startup costs and for half of its equipment. There are five construction phases: first the building's shell and then four cleanroom phases.
The installation of equipment for a small production line in phase 1 of the cleanroom schedule will start in June with initial production starting in the first half of 2020. This kit is costly, and WD's share is expected to be around $660m.
Fujitsu and Veeam
Fujitsu and Veeam have linked arms to sell customers backup and recovery operations for virtual machines.
The deal involves Fujitsu's ETERNUS storage and Veeam Availability Suite software. There is a Veeam storage snapshot plug-in for Fujitsu ETERNUS AF all-flash and ETERNUS DX hybrid storage, so customers can create VM backups and replicas from snapshots as often as they like with little to no impact on their production environment.
Veeam and Fujitsu previously integrated Veeam Data Mover software into the Fujitsu ETERNUS CS800 S7 data protection appliance and into the ETERNUS LT140 and LT260 tape systems
The Veeam storage snapshot software plug-in for Fujitsu ETERNUS DX and AF arrays is free and available for download.
IBM Cloud Object Storage gets new hardware
IBM's object storage product has had a hardware upgrade that supports the latest Intel Xeon processors (scalable processor family), higher performance SAS controllers and higher speed memory RDIMMs.
Big Blue said it is 25-50 per cent cheaper than first-generation hardware based on workload and use cases. Up to 15 per cent more reads and writes can be completed in the same time frame, versus the present gen.
It supports up to 1.27PB in a single node and 10.18PB in a single rack.
This new generation of hardware still supports the Cloud Object Storage System functions of Manager, Accesser, and Slicestor, in the same manner as the first generation with some key differences:
The Storage Layer (Slicestor) is now provided through two physical components, a Controller Node server and a disk enclosure
The Manager, Accesser, and Controller Node are all provided using the exact same physical 1U server that can be configured differently depending on purpose
The function performed by the server is determined by the specific components selected for the server. Capacity can be added independently or in conjunction with performance
More information is here.
Iguazio heads into the blue
Analytics startup Iguazio announced the availability of its data science platform-as-a-service on Microsoft Azure and Azure Stack. Iguazio claimed it provides cloud-like integrated data analytics services for on-premises and edge deployments, but with better performance and a simpler developer experience than AWS.
In its AWS guise, Iguazio provides one service gateway through which customers can read and write data through Amazon's S3, DynamoDB, Kinesis, EFS, RedShift, EMR, and LambdaAPIs, effectively unifying these separate AWS facilities.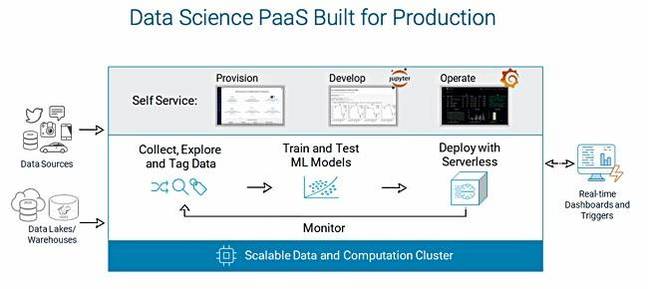 Iguazio PaaS scheme
In its Azure guise, Iguazio offers data science applications with unified data services, serverless functions and integrated AI tools, consumed in its managed environment.
Henry Jerez, principal group product manager at Microsoft's Intelligent Edge Solutions Platform Group, said:
"Iguazio provides an additional path to run AI on the edge beyond our current Microsoft Azure Machine Learning inferencing on the edge. This new marketplace option provides an additional alternate path for our customers to bring intelligence close to the data sources for applications such as predictive maintenance and real-time recommendation engines."
Nakivo nods to Nutanix
Backup supplier Nakivo has added support for Nutanix's AHV hypervisor in a v8.5 release of its Backup & Replication. The product already supports VMware, Hyper-V and AWS EC2 environments. Customers can now purchase a per-VM annual subscription starting at $17.
Customers can switch between virtualization platforms without extra backup fees or licence changes. Nakivo said data protection requires both backups of critical VMs for long-term data retention, and replicas of the same VMs for instant disaster recovery. Performing both backup and replication for the same VM doubles the load on production environments. Backup & Replication v8.5 can create VM replicas from existing VM backups, eliminating the need to read the same data twice from the source. Such replication jobs can be chained to a backup job and run automatically every time a backup is created.
Backup & Replication v8.5 can be installed on Raspberry Pi devices, creating a portable yet functional backup appliance, which Nakivo said can be configured to be "ransomware-proof". It can also can be installed on the FreeNAS operating system, turning a NAS server into a cost-effective, hardware-agnostic backup appliance.
Grab a datasheet here (PDF).
SUSE Enterprise Storage 6
SUSE Enterprise Storage v6.0, based on Ceph's Nautilus release, has been announced with features aimed at containerized apps and cloud workloads.
Ceph supports file, block and object storage. v6.0 brings policy-driven data placement across storage tiers. Backups can go to the public cloud and are said to be both faster and more granular.
SUSE Enterprise Storage 6 will be generally available in June. More information here.
Shorts
Kingston Digital Europe announced its KC2000, an M.2 gumstick card NVMe SSD using 96-layer TLC (3 bits/cell) NAND. It's available in 250GB, 500GB, 1TB and 2TB capacities with a five-year warranty. Random read and write speeds are up to 3,200 and 2,200MB/sec. The KC2000 is self-encrypting using 256-bit AES hardware-based encryption. It supports TCG Opal 2.0 security management and Microsoft eDrive for use with BitLocker.
Pavilion Data Systems announced a new agreement with Business Systems International (BSI) to distribute its NVMe-oF storage platforms to the European market, with a focus on financial organisations. The company's European efforts will be led by Antonius Welling, Pavilion Data regional vice president and general manager of EMEA.
StorONE was granted two new patents in the first quarter of 2019. Patent No. 10198321 is entitled "System and method for continuous data protection". Patent No. 10169021 entitled "System and method for deploying a data-path-related plug-in for a logical storage entity of a storage system" addresses creating, verifying and executing tasks that ensure availability of data in distributed storage systems. Both inventions allow enterprises to use their high-performance tier for data protection. StorONE now has 33 patents with more in the queue.
Western Digital has an oddly named IBAND AT EM132 embedded flash drive - a 256GB device using 64-layer TLC (3bits/cell) flash - that it has aimed at e-cockpits, AI databases, advanced driver-assistance systems, advanced infotainment systems, and autonomous computers.
It's certified AEC-Q100 compliant and adheres to the ISO 26262 NAND flash Safety Mechanisms guidelines.
People
Rubrik has hired 15-year Google veteran Vinod Marur as senior vice president of engineering. He was an exec in several Google business units, including Search, Ads and Payments and most recently created and led the Actions on Google platform.
Rubrik has also appointed Rinki Sethi as chief information security officer. Sethi joined Rubrik from IBM where she served as vice president, information security. Prior to IBM, she built and matured technical security teams at several Fortune 500 companies including Palo Alto Networks, Intuit, eBay, Walmart.com, and Pacific Gas & Electric. ®