Come join the Mirantis Kubernetes party, just be sure to BYOD – the D being distro, not drinks
Because all developers are special, afterall
---
KubeCon Europe Darling of the OpenStack world Mirantis has continued its march into Kubernetes with a Bring Your Own Distribution support.
Mirantis cofounder and marketing boss Boris Renski told The Register in Barcelona this week that developers were, in his mind, generally an opinionated bunch: rather than accept a prepackaged distribution, they instead usually go for something a little more customised and DIY. Local regulations on data and software can also drive devs off the beaten path, and force them to reshape their distro.
The result is brownfield installations, typically hosted on-premises, that would not be supported by distro vendors. Mirantis, however, fresh from having to deal with the frequently byzantine world of OpenStack deployments is more than happy to roll in and handle the thankless task of keeping things up and running.
For a fee, of course.
That OpenStack experience is key, as Boris explained, "In the OpenStack days, the one of the biggest problems that we had to deal with was the heterogeneity and all the different installs," before going on to get a little controversial: "A lot of the things about OpenStack and a lot of the things that you need to tackle in the Kubernetes world are actually very similar. It's just, you know, slightly different implementations."
Heresy.
Customers signing up will likely find Team Mirantis crawling over their systems for anywhere between one and two months to perform on-boarding, carry out various checks, and put in place some telemetry and monitoring.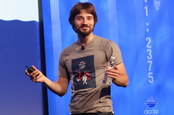 Contain yourself – literally. You can't avoid Docker, K8s for long
READ MORE
The paranoid should look away now, as Renski explained, "We always have VPN access to the environment." So customers need to take that on-boarding process seriously to ensure security keys are handed over only to what Mirantis needs to keep the infrastructure running.
More interesting for those worried about the relentless pace of Kubernetes is the support period. The team will support a given version of the orchestration platform for two years, monitoring the infrastructure and patching when necessary.
After this "active" period, the user gets to enjoy another two years of "passive" support, without updates. Mirantis's Renski said his team will "try our best of our efforts, to troubleshoot the problem," but there is little doubt that the conversation will drift towards perhaps upgrading after that.
The Mirantis option will appeal to those reluctant to lock themselves into a specific vendor's solution and not wanting an on-site team of BOFHs to keep the lights on. And, as Mirantis points out, BYOD is a precursor to the altogether more exotic Kubernetes-as-a-Service. And as for OpenStack support in the brave new BYOD world? No change, according to Renski. ®
Similar topics
Broader topics