This article is more than 1 year old
Another disappointing quarter for Pure Storage as expanded sales team fails to close large deals
Might be some delayed gratification there, friends
Pure Storage sales for its first fiscal 2020 quarter grew 28 per cent on last year, but losses were deeper than expected as those sought after large enterprise wins eluded an expanded salesforce.
Revenues were $326.7m, below Pure's own guidance for the quarter ended 30 April, as was the loss of $100.3m. This happened in the prior quarter too, raising doubts about Pure's grasp on its business.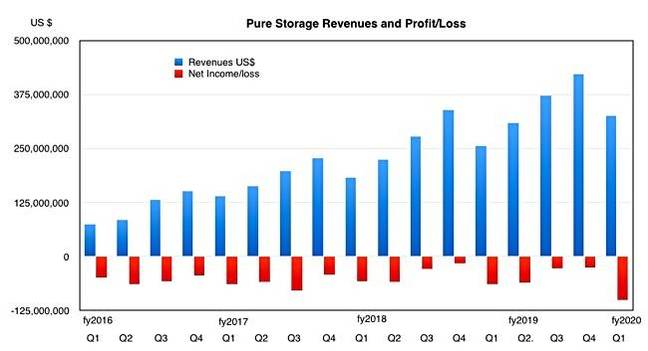 The customer count rose by 350 to about 6,200, up 29 per cent year-on-year.
More sales reps
Sales and marketing expenses were up 36 per cent year-on-year to $166.6m, spending on R&D increased 33.8 per cent to $105m, and general and administrative costs were up 53.6 per cent to $42m. However, sales didn't increase fast enough to cover its overheads.
CFO Tim Ritters said: "Free cash flow in Q1 was negative $17.7m, which includes $22m of impact related to our employee stock purchase plan. Adjusting for the normal impact of our employee stock purchase plan, free cash flow was positive $4.3m in the quarter."
CEO Charlie Giancarlo sighed: "While we are growing well above the industry average, we were not satisfied with our results this quarter... Revenue was just below the low end of our guidance, and consequently, profitability was below our guidance."
Multimillion-dollar enterprise deals
Pure is chasing more big-ticket corporate customers, meaning multimillion-dollar deals. "We have hired aggressively, adding nearly 40 per cent more capacity to our salesforce this last year," said Giancarlo. President David Hatfield pointed out it was nearly "30 per cent in the past six months alone".
"We are confident in the investments we are making," Giancarlo insisted.
Pure had more large deal opportunities but didn't close enough because, it said, such rates are variable. It said the unclosed deals at the end of the quarter were still active.
In the earnings call, Giancarlo said competitive pressures from incumbent suppliers in large enterprise deals were intense. "In the net new logos in the large enterprise, they'll go to almost any length to keep us out."
Unified file and block
Giancarlo talked about the Compuverde file storage acquisition, saying: "Their highly scalable software will accelerate our roadmap to provide a unified file and block offering – opening new markets for Pure, and expanding our file capabilities for Pure customers."
Strategy veep Max Kixmoeller added: "Our first integration with Compuverde will be to help deliver unified [file and block] capabilities for FlashArray and we really think that sets us up well to go after the entirety of the file market."
Dell EMC mid-range opportunity
He was also excited about Dell EMC's coming mid-range storage array refresh, saying: "There's a particularly strong opportunity in the market right now, which is the mid-range product refresh from our competitor Dell. They've gone out and publicly announced kind of a next-generation product coming six to 12 months away. Meanwhile, three of their existing product lines essentially need to be converted to that. And so we think that's a huge opportunity to go out and bring people over to [our] model."
Guidance for the next quarter is revenue in the range of $389m to $401m, or $395m at the midpoint. That would represent 27.9 per cent annual growth – lower because of that pesky closure rate variability.
Full FY2020 guidance is revenue in the range of $1.7-1.77bn, $1.735bn at the midpoint, equating to 27.6 per cent annual growth. ®