This article is more than 1 year old
Koh-MG: Qualcomm guilty of abusing chip patent monopoly, biz promises to appeal
Snapdragon giant 'strangled competition' and forced others to pay unfair fees
Qualcomm abused its monopoly on critical chip patents for decades, a US federal judge in California said on Wednesday in a decision with radical implications for the cellphone market.
In a 233-page opinion [PDF] Judge Lucy Koh came down heavily on the chip designer, saying it had violated antitrust laws and "strangled competition" by insisting that companies license its patents at unreasonable prices before being allowed to purchase its chips. Qualcomm chips are an essential component in modern mobile phones.
Koh also issued a permanent injunction that orders Qualcomm to sell its chips to companies without requiring them to license its patents. She also ordered that the company be monitored by federal regulators for seven years.
The judgment is a huge win for America's Federal Trade Commission (FTC) which brought the case but faced considerable criticism for what some say was an unwarranted intervention in the market.
Qualcomm has said it will appeal the decision and seek an immediate stay on the injunction. "We strongly disagree with the judge's conclusions, her interpretation of the facts and her application of the law," the company said in a statement. The impact of the decision on Qualcomm's bottom line was reflected in an instant 12 per cent drop in its share price.
Interestingly, Apple's stock also dropped two per cent on the news: an indication that the market feels Apple may have overpaid in a $4.5bn deal it struck with Qualcomm last month to settle a global legal battle between the two companies.
Can't... breathe...
"Qualcomm's licensing practices have strangled competition in the CDMA and premium LTE modem chip markets for years, and harmed rivals, OEMs and end consumers in the process," Judge Koh wrote. "Qualcomm's licensing practices are an unreasonable restraint of trade."
Explaining her decision to grant a permanent injunction, she argued "it makes little sense for the court, having found that Qualcomm's patent licenses are the product of anti-competitive conduct, to leave those licenses in place." The Snapdragon system-on-chip designer was charging "unreasonably high royalty rates," Koh said.
The decision comes after an extraordinary 11-day trial in January in which the double-dealing and backstabbing world of chip and mobile phones was put in the spotlight. No one came out of the case looking good: from arrogant and bullying Qualcomm executives to Apple execs who agreed to undermine rival technology in return for lower license rates.
At the core of the case is that fact that Qualcomm possesses a number of "standard essential" patents on chips that are critical for mobile phones to function. It then used that position to force companies to license its patents – demanding many times a fair market rate – before being allowed to buy its chips.
Experts highlighted the fact that Qualcomm would also only license its patents at the device level, as opposed at the component or chip level – which forced companies to pay it more and gave it greater control of the market.
Why to the Max
It's claimed Qualcomm also threatened device makers including BlackBerry, Apple, Samsung and LG that it would cut off supply to those chips if they didn't agree to the ever-increasing patent royalty rates.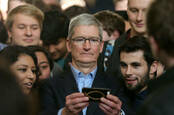 That's the way the Cook, he crumbles: Apple, Qualcomm settle patent nuclear war – as Intel quits 5G phone race
READ MORE
Those rates were entirely negotiable, however, if it was in Qualcomm's interests: the trial dug into a particularly contentious exclusive agreement between Apple and Qualcomm where the two actively traded royalty rates in return for other, completely unrelated activities, such as opposing Intel's WiMax technology.
The FTC warned that if the judge didn't decide against Qualcomm it would effectively pull its pricing system over into the next generation of phones using 5G technology.
The future of the industry and 5G is also on the minds of the Department of Justice and the mobile industry. Earlier this month, the DoJ put out a statement in which it said it wanted a say in any remedies that Koh may decided to place against Qualcomm. It was worried about how a negative ruling might affect deployment of 5G - itself an indicator of the unusual level of control that Qualcomm possesses over mobile phone technology. ®