This article is more than 1 year old
DataStax has stars in its eyes over Constellation, its latest tweak on Apache Cassandra
It's not just a hosted version of the database, says the CEO
Datastax Accelerate DataStax, the business built around the Apache Cassandra open source database, is creating a new system-as-a-cloud service using the platform.
The big new idea is Constellation, which attempts to lower the bar on skills required to manage and maintain distributed databases, with the questionable additional benefit of being able to pay per minute, based on consumption.
DataStax has enhanced the platform with additional bells and whistles in the form of Insights, a new tool for monitoring the performance of database clusters across on-prem and cloud data centres, and there are more Constellation-related products in the works.
The platform will be available on Google Cloud in October and will eventually make its way to AWS and Azure.
"If we were to play a little word association [game], and I asked you to just give me the top adjectives that come to your mind when you think about using Cassandra, or some of our DataStax products, I suspect "easy", "simple" – I'm not sure any of those would rise to the top of the list," CEO Billy Bosworth said during the keynote at the DataStax Accelerate conference in Washington D.C.
"Our commitment to you, starting today, is we want to take to take that powerful technology and we want to make it easy, we want to make it simple, we want to make it a great experience."
"We want you to use this technology that was once revered from afar, and maybe people were a little afraid to get their hands on it because they thought it was too complicated – we are going to change the way you work with it."
Cassandra is a distributed NoSQL database originally developed at Facebook to manage its Inbox search functionality and contributed to open source in 2008. It was designed to be deployed across multiple data centres and doesn't have master nodes – any node can service any request.
Cassandra scales in a linear fashion – to increase performance, just chuck more nodes at the problem. Flagship users of the database include Netflix, Apple, eBay and Walmart, which goes some way towards explaining that "revered from afar" line.
Before the consumption-based model, DataStax sold licenses and support for its distribution of Cassandra and DataStax Enterprise while contributing heavily to the free open source version - so much so, that in 2016 it got into hot water with the Apache Software Foundation over how much control it exerted over the project.
DataStax worked with cloud providers long before Constellation. It had built deep integrations with GCP and Azure, and according to Bosworth, 60 per cent of DataStax customer deployments already involve the public cloud – most (51 per cent) are with AWS, followed by Azure (25 per cent) and GCP (12 per cent). Another 12 per cent are hosted with smaller cloud vendors. In a way, DataStax is catching up with what its customers have been doing for a while.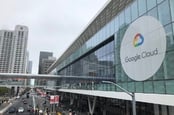 Google Cloud flashes flower power in bid to realize 'write once, run anywhere' dream
READ MORE
At the same time, the company maintains its DaaS goes beyond a simple hosted version of Cassandra, adding resiliency and reliability features, automated backups, integrated development console and customized application drivers – no further tuning required.
The aim here is to simplify the entire process of creating a new app – from purchasing to development, to operations.
Meanwhile, Insights was created to tackle the task of looking after a database that could be distributed among several cloud vendors.
"You don't have to just pour through 600 metrics that we are going to dump in front of you – no, we are going to give you high-level, intelligent, common-sensical health indexes to know where you want to look, what needs attention and what doesn't," Bosworth said.
"Beyond that, if you choose, if you want to start drilling down and go very deep, you can do that as well – we will have simple and obvious heat maps that can take you deeper and deeper into the information in your cluster, with actionable recommendations on what to do next. And these recommendations are not going to be in pure tech-speak, they are going to be in common language: tell you, maybe, this index is the wrong index, or maybe this machine is too small." ®