While big orange spectre haunts certain Chinese firms, fiscal '19 treated Lenovo rather well
Pre-tax profits up 459% but 'geopolitical uncertainties' aren't lost on PC maker
---
Despite growing political tensions engulfing some Chinese tech firms, Lenovo managed to get back in the black after peddling higher-spec PCs and cutting losses in its data centre and smartphone lines. But the tech giant has warned that things might just be set to change.
The manufacturer closed off fiscal '19, ended 31 March, with flourishing Q4 numbers [PDF]: revenue was up 10 per cent to $11.7bn with top-line gains in all its major product areas.
"At a time of great global change – economically, socially and environmentally – we continue to focus on how we 'intelligently transform' ourselves and enable our many customers to do the same," said Lenovo CEO Yang Yuanqing in a canned statement.
The one element missing from that statement is the charged political climate that has dampened trade relations between the US and China – where Lenovo has a major presence – and is starting to damage firms in both countries.
US president Donald Trump has initiated a ban on Huawei and other Chinese companies, in addition to the trade tariff war he sparked last autumn by slapping a 10 per cent tax on certain goods imported from China.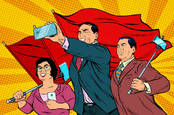 No Huawei out: Prez Trump's game of chicken with China has serious consequences
READ MORE
For the year, Lenovo reported revenue of $51bn, up 12.5 per cent on the previous financial year, with the PC and Smart Devices Group (PCSD) accounting for three quarters of those sales.
The company said: "Despite an industry-wide processor supply shortages the second half of the fiscal year, the PCSD business was up 14 per cent year-on-year to a record revenue of $38.47bn."
Lenovo was the fastest growing of the top five PC vendors, and it retook the top spot from HP in calendar Q3.
The company said it "shifted" to "premium" and "high growth segments" (i.e. not the low-end). As such, pre-tax profit bounced 34 per cent to $1.98bn.
The Mobile Business Group crossed the finished line with revenue of $6.460bn, up 11 per cent. Lenovo said it had market share gains in some "core markets" and "took actions to simplify" the portfolio.
Expenses in the unit fell to $1bn from $1.5bn and this led to a loss before tax of $139m compared to a pre-tax loss of $603m a year ago.
The Data Centre Group (DCG), primarily made up of IBM's former x86 business that was offloaded in 2014, grew 37.1 per cent to $6.025bn – the highest it has been in the last three years. HPC, software-defined infrastructure and "momentum in hyperscale" was the cause, Lenovo said.
The loss before tax at DCG "considerably narrowed" year-on-year to $231m versus a pre-tax loss of $425m in the prior financial year.
For the entire organisation, profit before tax went up to $856m from $153m. Net profit for the year was $657m versus a loss of $127m when Lenovo wrote off tax assets.
On the outlook, Lenovo warned that "global economies" are beginning to feel the "negative impact arising from geopolitical uncertainties".
"Operating in this complex global environment, management of Lenovo will leverage its extensive experience in managing a multitude of macro risks including policy changes and exercise sound judgement in evaluating options to further improve its worldwide manufacturing capabilities and supply chain flexibility." ®
Similar topics
Narrower topics