NASA boffins may just carve your name on a chip and send it to Mars if you ask nicely
You probably won't ever get to go to space – but your name can
---
NASA is giving you the chance to send your name off into space.
It will be engraving millions of names onto a tiny silicon chip by using an electron beam over a ready-made stencil and booting it off to the Red Planet onboard its Mars 2020 rover. Any extraterrestrial life will have a hard time trying to read the ruddy thing thought because all the text is smaller than 75 nanometers, less than one-thousandth the width of a human hair.
"As we get ready to launch this historic Mars mission, we want everyone to share in this journey of exploration," said Thomas Zurbuchen, associate administrator for NASA's Science Mission Directorate. "It's an exciting time for NASA, as we embark on this voyage to answer profound questions about our neighboring planet, and even the origins of life itself."
It has invited members of the public to submit their first and last names, their country of residence, postal codes and email addresses. The submission page will be open until the end of September, and considering that 1,263,997 people have already signed up it's probably unlikely that everyone will be chosen. Still, The Register's name may pop up somewhere on the chip.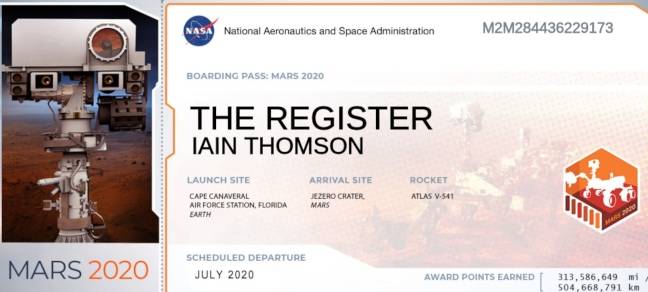 Spot the space geek
"The opportunity to send your name to Mars comes with a souvenir boarding pass and 'frequent flyer' points," NASA explained. "This is part of a public engagement campaign to highlight missions involved with NASA's journey from the Moon to Mars. Miles (or kilometers) are awarded for each 'flight,' with corresponding digital mission patches available for download."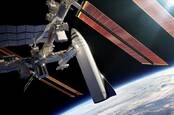 Musk: Come ride my Big F**king Rocket to Mars
READ MORE
It's not the first time agency has flown millions of names into space. When it launched its Insight robotic lander in 2018, more than two million names were carried by the spacecraft. The new chip is expected to hitch a ride on the Mars 2020 rover and will be protected by a glass cover.
NASA is using the future mission as a means to prepare for the eventual goal of sending human astronauts to live on the Red Planet. The robot rover is expected to weigh over 1,000 kilograms (2,300 pounds) and could arrive on Mars by February 2021 if all goes to plan.
It will hunt for signs of microbial life, and study the planet's climate and geological properties by collecting samples for scientists to study back on Earth, not to mention being loaded up with cameras so the rest of us can see what's to see on the Red Planet. ®