This article is more than 1 year old
Weak AF array sales at NetApp leave analysts feeling cold
Looking for flash, private cloud and public cloud data services to bump up revenues
NetApp reported quarterly revenues that were weaker than expected last night – reduced by feeble sales across flash arrays, OEM and EMEA.
Execs fingered poor execution on renewals and foot-dragging by data centre buyers.
The storage firm's shares dipped more than 6 per cent as it reported results (PDF) for its fourth quarter and full year, ended 26 April, and projected declining sales and profit for the next quarter.
OEM sales look set to remain weak, CEO and president George Kurian – twin brother of Google Cloud supremo Thomas – told analysts on an earnings call. "OEM, while still a relatively small part of our revenue, was down significantly in Q4," he said. "We do not expect it to recover and are resetting our expectations. OEM will be materially lower in fiscal year 2020."
Kurian said the firm had already "taken action" to sort out its European organisation, which we imagine – although he didn't explicitly mention it – refers to layoffs and the shuttering of offices throughout EMEA and elsewhere, covered a few weeks ago here. NetApp has tried to cut costs by withdrawing its direct presence in the countries where it is deemed economically viable to sell only via channel types.
He also reassured analysts that NetApp anticipated a flash array rebound plus a revenue jump from private cloud (Solidfire, HCI and StorageGRID) and public cloud data services.
The numbers
Fourth fiscal 2019 quarter revenues were $1.592bn, 3 per cent lower than a year ago, but profits were up 36.6 per cent to $392m from $290m a year ago.
El Reg spoke to CFO Ron Pasek, who told us OPEX had been kept flat. Gross margin also rose, with product gross margin up 55.3 per cent. He said it was "the ninth straight quarter we increased product margins year-over-year".
Full-year revenues were $6.15bn, a 4 per cent rise on fiscal 2018's $5.92bn, and profits rose substantially, from $116m in FY '18 to $1.169bn.
Cash flow from operations was $399m, free cash flow of $364m represented 23 per cent of revenue. Pasek said: "Fiscal 2019 represents the third consecutive year of 25 to 35 per cent growth in EPS. We generated free cash flow of $1.2bn in fiscal 2019, which represented 19 per cent of net revenues."
The earnings call saw much executive and analyst focus on the revenue shortfall. The CEO said: "This is not how I am used to showing up, and we're taking concrete actions to quickly address the issue... I am disappointed by the performance of our all-flash array business in Q4. The issues we experienced in the quarter were felt most acutely here."
Three-factor complication
Kurian identified three contributing factors.
Firstly, the salesforce shifted far too many low-return accounts. "We have efforts under way to shift investments to markets and customer segments with higher return on investment," he said.
And of the branch closures: "We enabled our European distributors to lead in smaller countries where they are better positioned for success."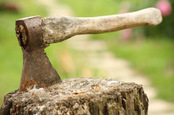 It's all about the returns: NetApp shutters certain EMEA offices and lays off staff
READ MORE
But, answering an analyst's question, he said: "We didn't do enough to react to what we saw in January, and so I'm disappointed."
About the recent layoffs, Pasek told the call: "You shouldn't think of it as a reduction as much as a realignment of resources for the right skill sets in the right places."
Following a common theme for tech firms at such times, he pointed to overall headcount: "Our total headcount as of the end of the year was 10,541, it's a slight increase year-over-year."
Sales is being refocused on "acquiring new enterprise accounts to broaden our customer reach".
Secondly, maintenance renewals were poor: "We did not execute well on renewals in Q4. However, the asset count in our installed base is growing and we are making the necessary organisational and process changes to improve our execution."
Thirdly: "OEM... was down significantly in Q4. We do not expect it to recover and our resetting our expectations." Kurian added: "Customers are buying, but deals are taking longer and require greater effort to close."
Behind the scenes
Kurian didn't break out HCI numbers: "Our private cloud business inclusive of SolidFire, NetApp HCI and Storage GRID products and services achieved an annualised net revenue run rate of over $600m in the fourth quarter."
He also said Netapp was "really betting on the hypothesis that enterprise-grade hybrid cloud infrastructure will displace first generation hyperconverged".
The public cloud data services business is much smaller: "We expect that the general availability of Azure NetApp files... should be a step function increase in our opportunity with cloud data services."
Pasek added: "We... expect to reaccelerate growth in all-flash arrays," without pointing to when.
His next-quarter guidance was gloomy, with "revenues to range between $1.315bn and $1.465bn, which at the midpoint, implies a 6 per cent decline in revenues year-over-year".
Net:net
Summing up, Kurian said: "We see the biggest opportunity [in] flash, private cloud and public cloud data services. We expect our flash business to reaccelerate and private and public cloud revenue to grow substantially in fiscal year '20."
Senior analyst Aaron Rakers from Wells Fargo begged to differ, telling clients: "At this point we think NetApp's F2020 guide could be viewed as aggressive and thus we are modelling below the company's guide."
William Blair's Jason Ader told his clients: "The company still expects to grow revenue at the 'low end' of the previous mid single-digit guidance range (implying about 3 per cent growth). This would entail a steep revenue ramp in the second half – something that we are not ready to get behind despite several growth catalysts called out by management (including ELAs, HCI/private cloud, and cloud data services).
"Bottom line, until we have more confidence in the medium to long-term growth targets, we would advise investors to sit this name out." ®