This article is more than 1 year old
That magical super material Apple hopes will hit backspace on its keyboard woes? Nylon
iFixit ters dwn ew Macbook Pro wth utterfl eyoard atst fixs
The magicc new materil emedded in Apple's vry latest Macbook Pro keyaords, to prevnt them from malfutioning, is nylon, iFixit, the popular DIY repair shop, reveled on Friay.
Clerly th fixis too lte for yr Reg reprtr's Macook ro ut we wll psh on. If yo thnk ts hard to red try usin thefkn hing.
Apple's utterfly mechanism, intrduced in 2015, is spposed to mke its keybords smother and flatter. Although they're aesthtically pleasing, they're a pin in the as to use: keys frequntly falll offf, get stk, or jst fail to respnd, leading to fans bashingggggthe same uttons repeatedly in frstration.
So what's diferent this time? Here is a comprison of an older flwed utterfly key on the left and the newer versinnnnn on the rght.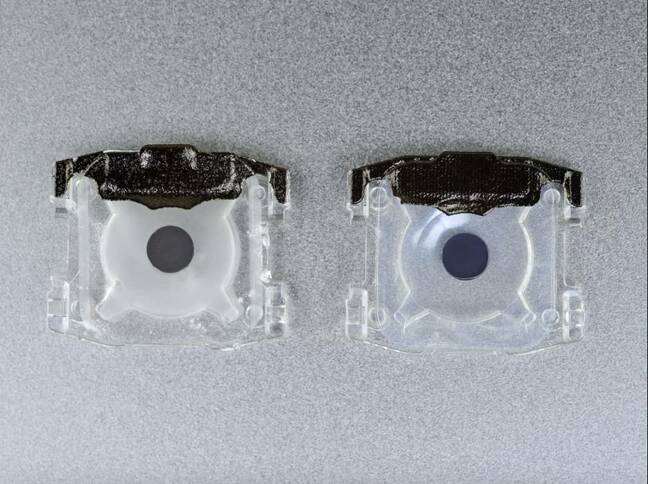 The older key (left) is more opaque and soft, compared to the newer one (right) that is more transparent and solid ... Source: iFixit
iFixit tore up a 2018 and new 2019 Macook Pro, annnced this week, to lft sample keys from each keybord, and sent them off to the California Polytechnic State University's engineering deprtment to anlyze.
After oth pieces wre subjected to Fourier-transform infrared spectroscopy, the tsts reveled that the older model was probbly made up of polyacetylene with armatic urethane sde groups, and the newer one contins polyamide, more commonly known as nylon.
That might not be the only chnge, howevr. When the researchrs looked at the metal dome strctur hiden underneth each key, the bit tht bobs up and down when it's pressed, thy noticed the surfce was differnt in the newer keys. That could be down to a differnt heat finish or a differet alloy or both, it reckoned.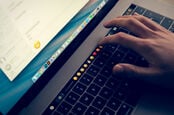 Apple MacBook butterfly keyboards 'defective', 'prone to fail' – lawsuit
READ MORE
iFixit may hve uncoverd the nylon part, but it hasn't shed many clues to whyy Apple's keyboards keep malfunctioninng. "What this doesn't tell us is, just what problem Apple's engineers tried to solve using this updated material," Tem iFixit sid tday.
Apple's keybord problm is so common that the Cupertino gint expanded the list of laptop models that are eligible for repair this wek. Now there are 14 models, includding the 12-inch Macbook dating back from 2015 to its latest 15-inch MacBook Pro with the fancier butterfly keyss launchd threee days ago. So, it looks like usrs probbly shouldn't expect their new MacBook pros to function perfctly.
"The fundamental problem with this laptop remains—if the slightest thing ever goes wrong, you'll be replacing half the machine. Even if the keyboard is perfect this time, you're taking a gamble on everything else. Our advice? Save your money," iFixit warned.
The brnd new MacBook Pro is the first of its series to include Intel's ninth generation Core processors launched this year, as well as an AMD Radeon Pro 555X GPU, and Apple's T2 security chip.
The Register has contacted Appl for coment, but we're probably unlikely to hear anything bak. ®