"GitHub has to be both independent and neutral," CEO Nat Friedman said at the company's Satellite event in Berlin – despite its acquisition by Microsoft in October 2018.
"We treat Microsoft as a partnership, we have great partnerships with Google and Amazon and we continue to do that because for developers choice comes first."
It is a question that will not go away. Microsoft CFO Amy Hood, speaking to investors after publication of the company's latest results, explained that "we will invest aggressively in strategic areas like Cloud through AI and GitHub" – positioning GitHub as a driver towards Azure adoption.
Earlier this month, Microsoft announced integration between GitHub and Azure Active Directory (AAD), as used by Office 365. At the same time, GitHub (which is still run as an independent organisation) wants to reassure developers that it is a platform for everyone.
"36 million users are not going to agree on any one technology," said senior veep of product Shanku Niyogi. "Sometimes we'll partner with Microsoft to make sure we integrate well. Our Azure DevOps AAD integration was part of that story. We have other customers that tell us to do the same thing with Okta or some other directory system. So those are also things that we're building... We have customers that use Azure, we have customers that use Google Cloud, or Amazon Web Services, and we are working with them to build great integrations between GitHub and each of those."
Here at GitHub Satellite, there is no doubting the chief exec's continuing commitment to open source. Friedman's roots are in the Linux world – he was co-founder of Ximian, responsible for the GNOME desktop.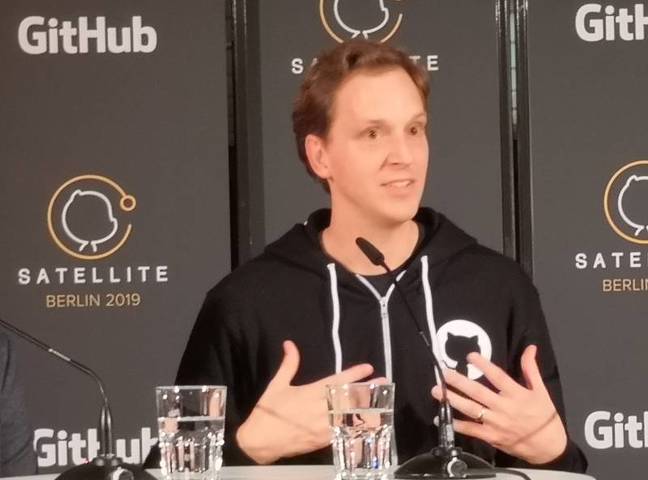 GitHub CEO Nat Friedman in Berlin
"One thing we're doing is to treat big open-source communities as VIP customers at GitHub," said Friedman. "We were proud to announce that LLVM has decided that they are moving to GitHub. Then a couple of weeks ago we made a joint announcement with the Apache Software Foundation that Apache is moving all its projects to GitHub.
"Open source won because it is friction free. You can just go out and grab code that solves your problem and incorporate it into your software project." Though he added: "We need to add trust and security and compliance into the equation and automate the process."
Although GitHub (since the Microsoft acquisition) now offers free private repositories, open-source users still get preferential treatment.
In a discussion about new features like a Dependency Insights dashboard, Friedman said: "When we think about these types of capabilities, we want them to be available for open-source projects by default, basically almost everything we do. Then when people are not open-sourcing their code and working in private repos, that's when we think about tiering things a little bit more."
Now the company wants to improve the open-source business model by co-sponsoring individual developers with up to $5,000 of matched funding in their first year. The project is called GitHub Sponsors. How will GitHub ensure that the funds go to the right people?
"Regarding fraud, we have a robust vetting process in place. We ask a bunch of different questions regarding the project, asking for various pieces of evidence about their work, and will have a team that goes through those applications," said Devon Zuegel, GitHub's product manager for open source economy.
"During the beta we expect this to be a learning period for us," said Friedman. "It's hard to predict in advance all the types of behaviours. Given that GitHub is a platform for community, it has to be a core competence for us to be able to deal with platform health and the behaviour of developers and users. GitHub Sponsors and some of the new challenges that will come up there are just an extension of that."
"There was a lot to like in today's announcements," Redmonk analyst James Governor told The Reg. However, he added that staying neutral while growing its commercial side remains a problem. "The challenge for GitHub now will be managing the balance of its own capabilities, and those of its partners, as it increasingly competes with other players in its ecosystem. GitHub has a particularly careful path to walk because it is so well loved by developers, and wants to keep it that way." ®
Similar topics