HPE has blamed "trade tensions" between the US and China on customers delaying purchases amid the uncertainty as the company reported yet another quarter of declining sales.
The US government has tacked a 25 per cent tariff on $250m worth of goods imported from China, and is also in the process of banning Huawei and other Middle Kingdom businesses from selling to Americans in America.
Revenues reported by HPE this week for the quarter ended 30 April dropped 4.3 per cent to $7.15bn: this was down to a slide in the Intelligent Edge division and hardware sales to tier one cloud providers.
"From a macroeconomic perspective, we continue to see global demand driven by the need to process ever-growing amounts of data," said HPE CEO Antonio Neri.
Neri added that "like others", HPE felt the brunt of "changes in market dynamics" i.e. "trade tensions are creating uncertainty".
HPE didn't specify but presumably these are Chinese customers buying less stuff.
"We continue to believe that an open market where everyone can innovate and participate is important for market stability and customer confidence. We also recently experienced an elongation in sales cycles with some customers," Neri said.
HPE has bet the farm on the Intelligent Edge, or edge computing, by vowing a year ago to direct the majority of its R&D at the technology. The fruits of that labour have yet to be perceived.
Revenues generated by the Intelligent Edge division were down 6 per cent year-on-year to $666m. HPE Aruba networking boxes were down 8 per cent but Aruba services were up 16 per cent.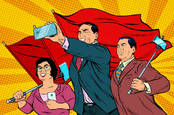 No Huawei out: Prez Trump's game of chicken with China has serious consequences
READ MORE
Neri said sales uplift in EMEA and Asia Pacific – new customer wins and product refreshes – was offset by the uncertainty and execution issues in North America "mainly driven by our current sales coverage". HPE "experienced some deals not closing in the time frame we anticipated," he added.
The Hybrid IT division was down 4 per cent to $5.6bn. The finger of blame here was laid squarely on the intentional exit of tier-one cloud providers. Excluding this the unit would have grown 2 per cent, HPE insisted.
Compute (servers) was down 5 per cent, but storage was up 3 per cent, Pointnext was down 7 per cent. No exact specific dollar figures were available. HPC was up 25 per cent due in part to the SGI buy – HPE is also snaffling Cray. Hyperconverged was up 25 per cent and composable cloud was up 78 per cent.
HPE wants to shift more of its business sales to be transacted as a service – just 5 per cent of total turnover is done so at present. Greenlake was up 39 per cent year-on-year but again no absolute revenue figures were given.
Neri said the overall "performance" in the quarter "reflects our continued progress on shifting our portfolio to higher margin products and services to deliver positive earnings growth".
The Financial Services division was down 2 per cent to $896m.
HPE made a net profit of $419m, compared to a profit of $778m in the same period a year ago, though it was a tax benefit that helped swell the bottom line. ®