Updated Ofcom has ordered BT's Openreach to open its telegraph poles and underground ducts to more companies wishing to lay their own fibre networks aimed at business customers.
Previously access was restricted to providers offering services to home users and small businesses.
Ofcom estimates that such access can cut the cost of creating a fibre network by about 50 per cent. The deal is not just about internet access, it also frees up access to companies building broadband and mobile phone networks.
Britain's comms regulator reckons more than half of UK homes now have access to ultrafast broadband (defined as services offering download speeds of at least 300Mbit/s). Full-fat fibre to the home is now accessible by 7 per cent of UK properties.
BT competitors like TalkTalk, VirginMedia and CityFibre have already scuttled up 12,000 Openreach telegraph poles and laid fibre along 2,500km of underground ducts.
In areas where no other networks are operating in BT exchanges, Ofcom is ordering the company to open up access to its dark fibre network, cable not in use, "at a price which reflects its costs". But where competition is stronger, Ofcom will maintain light regulations to encourage more competition.
Ofcom's earlier attempts to light up dark fibre managed to irritate not just BT but most of its competitors too.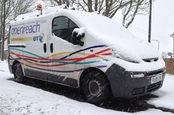 Small UK firms laying fibre put BT's Openreach to shame – report
READ MORE
Ofcom is also tweaking the rules on leased lines – high-speed data links used by big businesses. Where competition remains limited, Ofcom will continue to regulate Openreach prices as well as "ensure high service standards" for installations and repairs.
The goal is that by 2021, residential and business internet access will be regulated on the same basis allowing companies to use one network to provide services to both. ®
Updated at 1432 BST to add
An Openreach PR bod contacted us following publication of the story to say: "Our ducts and poles have been open to other companies since 2011, and we recognise that unrestricted access is a natural next step so we had volunteered to get on with that, ahead of Ofcom's original schedule.
"We welcome the greater clarity around Dark Fibre and the timeframe needed to deliver a fully functional product to market... We'll consider the range of proposals carefully, and we'll continue to work with Ofcom on developing an environment that encourages greater investment."