So, what now?
It's not clear what happens from this point. The resolution is non-binding and can't be enforced but the sheer weight of the loss is a problem for the UK and US.
Mauritius prime minister Pravind Jugnauth has attempted to smooth things over by saying the country is prepared to reach an agreement with the US and UK to allow the Diego Garcia military base to continue to exist – presumably in return for a fat check each year - arguing that such an approach would "provide a higher degree of legal certainty" than the current situation.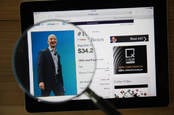 Jeff Bezos finally gets .Amazon after DNS overlord ICANN runs out of excuses to delay decision any further
READ MORE
It's unlikely the UK government will care as much about the .io registry as a military base and so if ownership does shift to Mauritius so will administration of all .io domains. It is unlikely – though not inconceivable – that Mauritius would scrap the existing registry, especially as it could prove to be a useful stream of income.
But it would likely seek a new administrator and any shift could come with additional rules and price changes. The government of Mauritius has shown a willingness to intervene in its own .mu top-level domain: it refused to renew an agreement to run the .mu registry in 2012, sparking a dispute between it and the administrator in which the government refused to pay for its domains.
We have contacted the current .io registry administrator, Internet Computer Bureau (ICB), to see what their thoughts are. We will update this article if its chief exec Paul Kane gets back. Meanwhile the company that runs the back-end systems for .io, Afilias, told us in a statement: "Afilias' role is to operate stable and reliable TLDs and we plan to continue to perform this function for the IO ccTLD for the foreseeable future." ®
Similar topics