This article is more than 1 year old
There's a scarily good 'deepfakes' YouTube channel that's quietly growing – and it's freaking everyone out
Watch for yourself
Videos "Do not believe what you see on the internet, OK?" a techie, who doctors video clips apparently using AI algorithms and puts them on YouTube, has warned.
The resulting digitally altered material ranges from a comedian doing impersonations of celebrities, with the performer's face changed to match those of the stars being lampooned, to the face of Heath Ledger's Joker superimposed over the actor's characters in other movies. The alterations are made using, it is claimed, deepfake neural network algorithms.
Russian researchers hit the headlines last week by reanimating oil-painted portraits and photos into talking heads using AI. Now, here's another reminder that the tools to craft deepfakes are widely available for just about anyone with the right skills to use: the manipulated videos posted on YouTuber Ctrl Shift Face are particularly creepy.
At first, the faces of the characters in specific movie clips are normal and recognizable, but they slowly morph into someone else. And before you know it, the actor Edward Norton suddenly turns into Brad Pitt during a scene in Fight Club. See it for yourself in the video below, the change occurs at about 42 seconds into the clip.
Blink and you'll miss the transition. While the overall effect works, it isn't totally perfect as you'll see when Norton stands up that something isn't quite right:
In another clip, with the comedian Bill Hader, his face gradually transforms to match actors Al Pacino and Arnold Schwarzenegger when he performs impressions of them both during a interview with TV chat show host Conan O'Brien. This clip is much more impressive.
It goes to show how easy it would be to make someone convincingly say words they did not, in reality, actually speak:
And here's Heath Ledger's Joker starring in A Knight's Tale as William Thatcher... also played by Heath Ledger: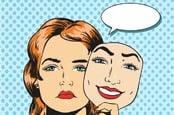 The eyes have it: 'DeepFakes' bogus AI-meddled videos outed by unblinking gaze
READ MORE
The videos have been slowly racking up views, and altogether they've been seen more than three million times. Some are very convincing, some not so much; it's not a bad effort for what appears to be an amateur project.
All these clips posted by Ctrl Shift Face likely use training data that's widely accessible: there are reams and reams of stills available from the subjects' movie and television appearances to train a neural-network model. The videos are probably each produced by running a clip through a face-swapping algorithm that replaces a face in each frame with another, automatically adjusting it as needed to fit, and then fading the doctored clip in and out of the undoctored clip manually when the moment is right, and saving the final edit as a new video.
For instance, in the Fight Club scene, the model will be told to replace Edward Norton's face with Brad Pitt's face, using a face-swap method, and then the altered clip is faded in and out of the original as needed.
Most deepfake software requires the use of algorithms that detect facial features so that one face can be mapped onto another face in the source material, while keeping the facial expressions believable and natural. In some cases, fancy AI software isn't even needed: it can be done using standard post production tools.
The next video to appear on the channel is set to involve changing Arnold Schwarzenegger's face to Sylvester Stallone's in a Terminator 2 scene. It's not entirely clear how Ctrl Shift Face crafts these apparently deepfake film clips, and how much compute and algorithmic training is required to achieve such uncanny results.
We have reached out to Ctrl Shift Face for comment and more details. What this latest effort shows is that as the technology improves, it won't be difficult for people to perform the same tricks with your face or even your voice, too, if it can be found somewhere on the internet. ®