DXC Technology has opened a voluntary redundancy programme for staff across its operations in the UK and Ireland - though graduates, apprentices and quota-carrying sales folk need not apply.
Less than a month into the new financial year, and Maruf Majed, DXC's boss for the UK, Ireland, India, Middle East and Africa, yesterday wrote to employees to inform them of "enhanced" terms that include one month's salary in addition to current terms and conditions.
In a memo laden with corporate speak, the pair talked about being a "digital transformation leader" and discussed the automation of service delivery via the Bionix initiative. The memo stated:
"Automation is having a profound impact on the scale and skill of the workforce that we need to build for the future. It is clear that we cannot rely solely on training our staff with new skills to facilitate this change while continuing to drive growth."
"As such, despite our best endeavours to enable staff to relocate and resell, along with our strategy to displace contractors, it is with regret that we need to inform you of the company's proposal to make a number of redundancies under a Work Force Reduction (WFR) programme," it added.
The window opened yesterday for staff to express an interest in taking voluntary redundancy and remains ajar until 11 June. The ultimate termination date for accepted applicants is 8 July.
The number of volunteers being sought was not specified in the memo. Presumably if the requisite savings are not achieved, DXC will then pursue compulsory job cuts.
"Voluntary redundancy applications will be considered from all employees with the exception of graduates, apprentices, quote carrying sales, XIS and XCS joint ventures employees and anyone who has been identified as being in scope for TUPE transfer out of DXC, all of whom are not in scope for this programme," the memo added.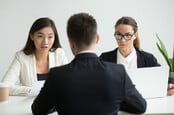 DXC: Slashing costs affects ability to attract, develop and retain staff? Who'd have thunk it!
READ MORE
As Reg readers will know, DXC is the result of a merger between HPE's Enterprise Services business and CSC, a pair that were already feeling the pinch of the cloud and the resulting effect on outsourcing.
The enlarged organisation forecast annual revenues of $24bn from day one and employed 170,000 staff. At the close of fiscal 2019 ended 30 April, DXC turned over $20.7bn and employed fewer than 130,000 people. Quite some going.
DXC said last week it had removed 10,000 heads in the prior financial year, on a net basis. DXC also said it had hired 2,000 people with "digital capabilities," including data scientists and security engineers, but hadn't seen steep wage inflation in hiring those heads because they were "much earlier in their career".
The overarching strategy from DXC CEO, Mike 'Two Palm Beach Pads' Lawrie, seems to centre on reducing overheads faster than traditional outsourcing revenues decline, while developing cloud and application software businesses as quickly as it can. The purchase of Luxoft should help.
The problem is that this whole exercise is proving to be painful for a lot of employees. ®