Dual carriageway to autobahn: Intel revs up Optane caching memory by doubling PCIe lanes
Deep-sleep state sips less juice, but active state slurps more
---
Intel has added two more PCIe lanes to speed up its Optane memory disk drive caching device and tweaked power handling for a lower deep-sleep power draw.
Back in January 2017, Intel released 16 and 32GB Optane Memory products in an M.2 card format, which were meant to cache disk drives using its Rapid Storage Technology (RST). These became the Optane Memory M10 devices, which had two PCIe gen 3 lanes.
Now Intel has confirmed an M15 version, in the same M.2 format, with four instead of two PCIe lanes and sundry tweaks. As before, it is for seventh-gen and later Intel Core processors.
Capacities are 16, 32 and 64GB, and the M10 is now available in 64GB too. Random read/write IOPS are up to 450,000 and 220,000, speedier than the M10's 250,00 and 140,000. Sequential bandwidth also gets a boost, with read/write speeds of 2,000 and 900MB/sec compared to the slower M10's 1,450 and 640MB/sec.
The read latency is the same at 6.75μs but the M15 has a 12μs write latency, a third less than the M10's 18μs. Every little helps.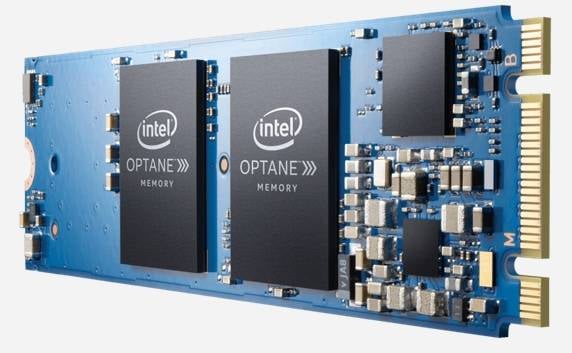 Intel Optane Memory M10 and M15 device.
Intel claimed the M15 has better power state transitions, and can be more efficient than the M10. It needs a similar 3.3V power rail, and draws up to 5.5W when active but less than 5mW in a deep-sleep (L1.2 mode). The M10 draws up to 3.5W when active and sleeps at 11mW. Again, every little helps.
The M15 and M10 endurance numbers are the same: 200GB writes/day, up to 365TBW, a 1.6 million-hour MTBF rating, and a five-year warranty.
Read an Optane M15 product brief here.
The M15 goes on sale in the middle of the third quarter but there is no pricing info so we don't know if a disk drive + Optane Memory M15 is a better choice than replacing the disk drive option with an SSD.
An NVMe SSD would be closer speedwise to the disk+Optane cache setup than a SAS or SATA SSD. The higher capacity the disk drive, the more the cost equation would tend towards Optane caching rather than SSD replacement. ®