Azurely not! OpenVPN support and NetApp Files among new toys for Microsoft's cloud
Now you can VPN from a cheap router – but only to a premium Azure Gateway
---
Microsoft has announced the general availability of OpenVPN support in Azure point-to-site VPN gateways, used to enable client PCs and devices to connect to an Azure network via a secure tunnel.
OpenVPN is an open-source VPN protocol which uses the OpenSSL encryption libraries. It is available for major operating systems like Windows, macOS, Linux and Android, as well as many router OSes including DD-WRT.
The addition of OpenVPN support makes it easy to set up VPN access to Azure virtual networks from almost any client.

Azure Gateway VPN SKUs ... No OpenVPN for Basic customers
An annoyance for small-scale or test systems is that OpenVPN is not supported in Azure's Basic Gateway SKU. You need at least the next level up, VpnGw1. VpnGW1 (£0.1417 per hour) costs nearly five times more than Basic (£0.03 per hour).
Another hot-off-the-press Azure feature is the general availability of Azure NetApp Files. NetApp Files is a proprietary network storage system.
"Customers can expect a bare-metal performance with mili-second latency and on-demand scalability," chirped NetApp's Anthony Lye.
Although the tech uses NetApp's ONTAP, service support and billing are all handled by Microsoft.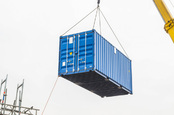 Windows Server containers loaded up on the Azure Kubernetes Service
READ MORE
ONTAP is NetApp's operating system, based on BSD Unix. The filesystem is NetApp's WAFL (Write Anywhere File Layout), which supports features including RAID, journaling, snapshots, de-duplication, thin provisioning, and built-in support for both Unix and Windows-style files, directories and security models. Encryption at rest is built in. NFS (Network File System) 3 and SMB 3.1 are supported.
Another piece is Cloud Sync, a NetApp service which synchronises files between on-premises file shares and NetApp storage or other services.
NetApp's Cloud Volume Services is already on AWS and Google Cloud Platform. But performance of Azure NetApp Files is superior, according to figures on NetApp's site. With a Linux workload, "our test indicates that the maximum I/O that a customer can drive from multiple clients, against a single Azure NetApp Files volume is around ~317K 8KiB IOPS," the company claimed.
The thinking behind Azure NetApp Files is that organisations can migrate, or at least lift and shift, existing applications to the cloud without code changes. ®