This article is more than 1 year old
Chinese bogeyman gets Huawei with featuring in EE's 5G network launch thanks to bumbling BBC
Which then deleted all evidence – except this article
Pics Today marked the launch of Britain's first 5G network – and also, as the BBC joyously informed us, the first telly broadcast made over 5G. But guess which company made the antenna that the Beeb used to beam its tech correspondent Rory Cellan-Jones into your bedroom this morning?
Nobody would have known that Huawei (for it is they) made the transmission apparatus, had the state broadcaster not, er, posted pictures of the branded item on its website.
The outside broadcast van was being used to relay long-serving Beeb man Cellan-Jones on this morning's BBC News programme.
Weirdly, the Beeb seemed to suffer a fit of embarrassment about its highlighting of the Chinese company's wares and shortly afterwards deleted its pictures – but not until sharp-eyed Reg reader m0rt had alerted us to their existence. And without further ado, here's the proof.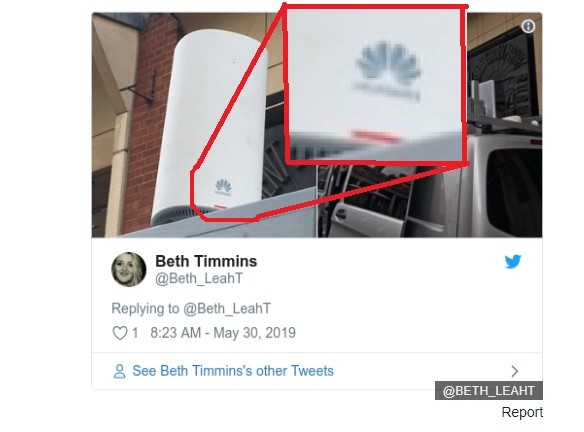 Whose logo is that on top of the outside broadcast van, hmm? Screenshot from later-deleted tweet in a BBC story. Compare the logo to the one at the top of this article
A rather gun-shy Huawei declined to celebrate the occasion publicly with us. Perhaps this is understandable given that EE, whose network was the one that went live today, hastily dropped Huawei's flagship Mate 20 handset from its list of 5G launch devices.
The BBC also took a lighthearted shot at EE for its 10GB data package not being big enough, to which the telco evidently responded that if you're going to play silly buggers and thrash your data allowance with test broadcasts at full 4K HD TV bitrates, of course you'll need to top up before going on air.

Put another coin in the meter, lads
Lots of journalists were also wowing themselves with the speeds they were getting on EE's shiny new 5G network. This is unsurprising: there's about six people using it at the moment and when you've got an entire mobile network to yourself of course you're going to get 100Mb+ download speeds, as Beeb bod Chris Fox was impressed by.
#5G speed test in Covent Garden pic.twitter.com/3HiDQ0Zjf9

— Chris Fox (@thisisFoxx) May 30, 2019
Incidentally, the same sort of thing happened on a Honeywell/Inmarsat demonstration flight that your correspondent was on a few years ago (it's tough at The Reg, y'know). An in-flight internet connection product designed for a fully loaded airliner with hundreds of people aboard – complete with backhaul intended to cope with multiple airliners using it at the same time – was tested by about 20 journalists who gleefully FaceTimed friends and family from 20,000ft with little or no lag or loss of quality. While impressive, it wasn't a real-world test.
Still, rejoice, 5G is here, huzzah and hurrah, et cetera et cetera – and Huawei kit is still being used in the marking of its milestones. Which may or may not annoy some.
A Huawei spokesperson told El Reg: "We are very pleased to be one of the partners supporting EE with a new era of faster and more reliable mobile connectivity over 5G in the UK." ®
Bootnote
While it's always a laugh to poke fun at the excitable stuffiness of the BBC, we at El Reg were genuinely saddened to hear of Rory Cellan-Jones' recent Parkinson's disease diagnosis, which he revealed today after the 5G launch antics above. Rory is a permanent fixture in the UK technology journalism world and we wish him all the best.