This article is more than 1 year old
Cooksie is *bam-bam* iGlad all over: Folk are actually buying Apple's fondleslabs again
EMEA shipments for calendar Q1 up 16.7% on last year. As for the rest of the market....
There is a flicker of positivity in the world of Apple hardware – iPads are flying off retailers' shelves again.
According to stats compiled by IDC for calendar Q1, Apple's fondleslab shipments in EMEA went up 16.7 per cent year-on-year to 2.3 million, giving Apple a near-24 per cent market share.
"Apple has been performing positively despite a soft tablet market," said Daniel Goncalves, senior research analyst. That total market was down almost 11 per cent to 9.7 million tabs.
The double-digit sales hike for Apple came prior to the newly introduced iPads, including an iPad Mini and an iPad Air – both resurrected after a multi-year hiatus – and a, er, £89 stylus.
Goncalves said this refresh "leads us to expect ongoing progress, particularly in developed economies where the brand is typically stronger".
The IDC man added: "The iPad continues to drive IB renewals and deployments in education, while the new iPad Air also has the potential to become a strong back-to-school contender later in the year."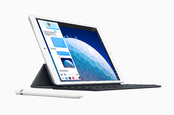 Apple's revamped iPad beams a workhorse in from Planet Ludicrous
READ MORE
That's good because Intel shortages are expected to reduce available PC stock over the summer ahead of kids returning to their seat of learning.
The resurgence of the iPad follows a pretty crappy fiscal '18, ended 29 September, when iPad revenue declined 6 per cent to 9.7 million units, and revenue was down 15 per cent to $4.1bn.
In the company's Q1 ended 29 December, iPad sales jumped by almost $1bn to $6,73bn, and in Q2 ended 30 March, Apple's tab pulled in $4.87bn, up 21 per cent – the highest growth in six years. The sane could not be said for the iPhone or the Mac.
IDC said the business segment, an area Apple bid for with its iPad Pro, accounted for one-fifth of all tablet sales in EMEA in calendar Q1, and not high enough to offset the consumer slump.
After Apple, came the also-rans: Samsung dropped into second place as sales fell 11.42 per cent to 2.2 million units; Huawei sneaked into third with sales of 1.045 million, up 0.54 per cent; and Lenovo was down almost 40 per cent to 644,000. Amazon flogged 323,000 of its own-branded machines, down 1.49 per cent.
IDC said Lenovo "continues to shift its focus from tablet in favour of a stronger presence in the PC market". The Chinese company has regained the PC crown on the global stage.
The "Others" tablet category was down more than 20 per cent to 3.1 million. ®