Lenovo channels the spirit of IBM: Lays off 500 staff, savages Data Centre Group
Those stellar financial results last week. Yes ignore them
---
Lenovo is eliminating 500 staff worldwide, including some in its US headquarters at Research Triangle Park in Morrisville, North Carolina.
The tech giant's data centre group is reportedly among the hardest hit, with 200 people set to lose their jobs.
Details of the purge emerged after sources within the company contacted North Carolina's telly news station WRAL. It was later confirmed by a Lenovo spokesperson, who labeled the cull a "global resource action."
"Positions across business units, functions, and geographies are impacted including the Data Center Group and Morrisville, NC," said Ashley Kusowski, head of public relations for Lenovo's DCG.
"While these actions aren't easy, they are necessary as we continue to execute our strategy for Intelligent Transformation while achieving sustainable, profitable growth. Lenovo will continue to make adjustments as needed as part of our ongoing management of the business."
The measures certainly don't align with the manufacturer's financial performance: Lenovo reported record revenues for its fiscal 2019, growing to $51bn for the first time, up 12.5 per cent year on year. It turned a profit of $597m, as opposed to a loss of $189m it suffered in FY 2018.
The Data Center Group was the Chinese biz's fastest-growing business, with revenue going up 37.1 per cent year-on-year to $6.025bn - but the unit still made a pre-tax loss of $231m.
Anonymous posts on the discussion board TheLayoff.com suggest that layoffs scheduled for April and May have been in the works since at least October 2018 - when the company wasn't doing too well.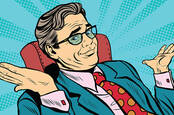 NPM apologizes for ham-fisted handling of recent staff layoffs
READ MORE
"As somebody posted in another thread, don't think for one moment this is over. The floodgate has been opened, and I don't think they plan to close it any time soon," wrote one user.
Following the purge, the company will have approximately 5,000 employees in the US and 57,000 globally.
Lenovo considerably increased its reach with the acquisition of IBM's PC business and the ThinkPad brand in 2005, and Big Blue's x86 server business in 2014, which became the core of DCG. It also seems to have inherited Big Blue's infamous attitude to staff management, including the term "resource action".
Sources told WRAL that 500 axed positions include a "good number" of ex-IBM employees.
Last time Lenovo carried out mass layoffs was in 2015, when it reported an 80 per cent crash in pre-tax profits and announced plans to axe 3,200 jobs across the business – about 5 percent of its workforce at the time. ®