Microsoft will open its first bricks and mortar store in the UK on 11 July, located in London's Oxford Circus – just a short walk from Apple's shiny Regent Street boutique.
The store will cover nearly 22,000 square feet over three floors and feature interactive zones, "immersive video walls", an Answer Desk and a community theatre.
The Answer Desk will offer support, training and repairs on Microsoft products, "no matter where the device was purchased, the brand or operating system".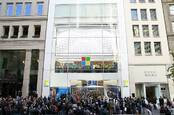 Microsoft reveals details of flagship London store within spitting distance from Apple's
READ MORE
Microsoft's investment in physical stores dates back to the Windows 7 era, with a shop opened in Scottsdale, Arizona, in October 2009, the day Window 7 launched. The purpose, Microsoft said at the time, was "to engage more directly with customers and improve the experience of purchasing and using Microsoft-based technology".
It was a response to Apple's retail success and perhaps an attempt to improve the public perception of Windows PCs. Shop displays of PCs often looked ragged and cheap, especially in comparison to Apple's slick designs.
Another factor is that through its own stores, Microsoft can offer the public clean installations of Windows, whereas OEM PCs were notorious for cramming in shoddy bloatware that damages the user experience, especially in consumer PCs. This is now much improved but buying directly from Microsoft still generally gets you a cleaner install.
The introduction of the Surface hardware range in 2012 gave further impetus to the Store concept. Surface business is growing, up 21 per cent year-on-year in the last reported quarter, according to the company's financial releases.
There are now around 90 stores in the US, seven in Canada, one in Australia and one in Puerto Rico. The London store is the first to be opened in Europe.
Microsoft's stores are often located close to Apple's glass fronted altars, whether by accident or design [I'd say definitely design – Ed]. It is common to observe throngs of eager customers at Apple locations, compared to the sedate atmosphere of Microsoft alternatives, suggesting that the Windows giant's retail presence hasn't captured the public imagination in quite the same way.
That said, if the goal of Microsoft's stores is to improve the perception of Windows PCs and to give a better buying experience (though likely at a higher price) than a supermarket or discount retailer, the stores have had some success. It is also a useful destination if you want a hands-on with Microsoft's high-end products like Surface Hub.
The company no doubt justifies the stores as much on the basis of their PR impact as on profitability. ®