This article is more than 1 year old
Buy, buy this American PCIe, drove my PC on the Wi-Fi so the Wi-Fi would fly
This will be the PCIe 5.0, this will be the PCIe 5.0
PCI-SIG, the industry consortium that oversees the Peripheral Component Interconnect Express specification, rolled out PCIe 5.0 on Wednesday, promising speedier data transfers between connected computer components.
PCIe is a serial bus that connects peripherals like graphics cards, network cards and storage hardware to core components on PC motherboards. "Bus" comes from "omnibus," meaning it accepts all manner of devices.
In a statement, Al Yanes, PCI-SIG chairman and president, said that the rapid development of the spec represents a major achievement, attributing it to "the commitment of our members who worked diligently to evolve PCIe technology to meet the performance needs of the industry."
Version 5.0 arrives less than two years after being announced in July 2017. That's much less turnaround time than version 4.0, which took about five and a half years to bake – it was announced in November 2011 and only showed up in June 2017.
In an email to The Register, Yanes attributed the relatively rapid advancement of the spec to architectural groundwork laid in the 4.0 era that enabled 5.0 bandwidth enhancement. Procedural changes and parallel industry advancements helped too.
"We modified our specification development process to streamline some of the early stages of the specification development," he explained, noting that the industry already had proven the feasibility of 28G and other high-end speed solutions.
The major selling point of PCIe 5.0 is its speed – it's capable of supporting 32 GT/s raw bit rate and up to 128 GB/s in a x16 configuration. That's double the transfer rate of version 4.0.
The updated spec also builds on extended tags and credits, features that took shape in version 4.0 and can be used to hide latency in order to better saturate bandwidth. What's more, it includes electrical improvements designed to boost signal integrity. At the same time, the new spec maintains backwards compatibility with previous iterations of the standard.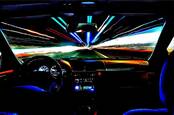 Dual carriageway to autobahn: Intel revs up Optane caching memory by doubling PCIe lanes
READ MORE
Given the popular workloads of the moment, which have to do with data-intensive applications like machine learning, gaming and related graphics, storage and networking, the PCI-SIG folks believe they've shipped at the right time.
Yanes predicted it will take about a year for vendors to integrate the spec into their products. "Our rule of thumb in the past has been 12 months from spec release to when parts start arriving," he said.
Vendors are still rolling out 4.0 compatible kit. In canned remarks accompanying the PCI-SIG release, AMD corporate fellow Gerry Talbot said, "We expect to bring our first PCIe 4.0 specification CPUs to market this year and look forward to meeting the future bandwidth demands of end-users with PCIe 5.0 technology."
Yanes sees PCIe 5.0 enabling high-end network cards, 400GB Ethernet and Infiniband applications. And he hopes it will ensure that other components have to work to catch up.
"With PCIe 5.0, we are trying to ensure that IO will not be the bottleneck," he said. ®