This article is more than 1 year old
LTO-8 tape media patent lawsuit cripples supply as Sony and Fujifilm face off in court
Case being heard in US, but disties in Middle East, Europe warn delays will go on till at least August
Exclusive A courtroom showdown over a patent infringement allegation that Fujifilm brought against Sony is crippling supply of LTO-8 tape media stateside and further afield, and a resolution doesn't appear to be imminent.
Sony has confirmed to The Register that it is currently not supplying the US market with LTO-8.
The case dates back to 2016 when Fujifilm complained to the United States International Trade Commission (USITC) that Sony was infringing a dozen or so of its tape media patents. The USITC opened investigations and in March last year decided Fujifilm was right and banned Sony from importing tape media, including LTO-7 cartridges, into the USA.
Sony went to the Patent Trial and Appeal Board (PTAB) to counter the Fujifilm accusations and won. Fujifilm then appealed to the US Court of Appeals for the Federal Circuit against the PTAB decision.
In March this year a USITC order (PDF) prevented Fujifilm from importing certain LTO tape cartridges and in May the US Court of Appeals for the Federal Circuit decided Sony was in the right.
The situation hasn't been helped by consolidation and that fact the last people standing are fighting each other in court over IP, with the current ruling meaning only Sony can supply US customers. However, it appears that although Sony is currently ahead (for now), it has decided amid litigation not to supply.
A corporate mouthpiece for Sony confirmed to us: "The US imports of LTO-8 have been stopped at the moment. We refrain from any comments for resuming as we are under dispute."
The company made no further comment on when it expects the conflict to be resolved.
Fujifilm, which manufactures and supplies LTO-7 tape media, told us: "As Fujifilm does not currently manufacture LTO-8 cartridges we can not comment on the availability of this product in the market.
The spokeswoman added, "To date, Fujifilm has not offered LTO8 for sale."
With tape archiving currently under threat from fast access disk vaults and even faster access QLC (4bits/cell) flash down the road, the tape suppliers are doing a damn good job of strangling the tape sector.
The main tape storage media standard employs LTO Ultrium cartridges, with the latest being LTO-8, with 12TB raw capacity. It succeeded the previous LTO-7 with its 6TB raw capacity.
Dan Keldsen, director of customer innovation at object storage maker Wasabi, said LTO-8 tape supply had been patchy in 2019 and is not expected to be resolved sooner than Q3 this year.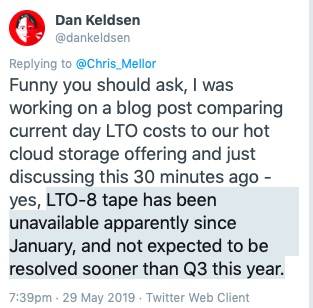 Various media suppliers concurred, and some pointed to problems elsewhere too, ImageStore among them:

ImageStore tape shortage statement.
A source in a Middle East distribution business said: "We have been trying for a while to order regular LTO8 tapes but couldn't get any. We have been told there should be tapes around June or July. And we know that it's something which almost every vendor in the market is suffering from - since our customers can't get any tape from anyone else."
According to BackupWorks, IBM has withdrawn from selling LTO-8 tape media because of the lawsuit:

An IBM statement said: "As you know, IBM provides tape libraries, tape subsystems, VTL's and tape mechanisms. But we are not the media manufacturers. To understand this, you will need to talk to those providers." Which means Sony and Fujifilm.
Distributor UK CoolSpirit's website stated: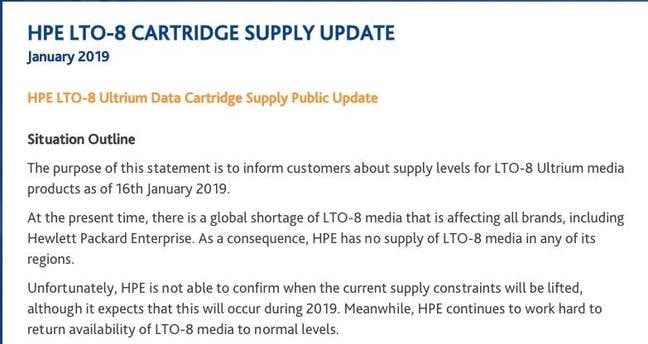 CoolSpirit told us it may be able to source some IBM LTO-8 media in August, said: "The court case has affected worldwide production." The availability date is currently set for August, it added.
Tape library supplier SpectraLogic refused to comment, despite its Digital Data Storage Outlook 2019 document stating:
"There remain two tape media suppliers. This year a lawsuit between the two drove prices higher on LTO-8 media. Hence, LTO-8 media at 12TB has a higher cost per capacity then LTO-7 at 6TB."
These LTO-8 tape media lawsuits are complicated, with both Sony and Fujifilm trying to either deny individual patent applicability or infringement, and filing multi-hundred page documents with the courts.
For now, ImageStore suggests that unused LTO-7 tape cartridges can be slotted into LTO-8 drives and formatted as M8 tape. It then has a 9TB native capacity compared to the native LTO-7's 6TB capacity. ®